Electrochemical determination of Salmonella typhimurium by using aptamer-loaded gold nanoparticles and a composite prepared from a metal-organic framework (type UiO-67) and graphene
Abstract
An aptamer based assay is described for the determination of Salmonella typhimurium (S.typhimurium). A metal-organic framework-graphene composite of type UiO-67/GR is used as the substrate, and an aptamer-gold nanoparticles-horseradish peroxidase (Apt-AuNP-HRP) conjugate the signal amplification probe. A phosphate-terminal and partially complementary DNA (cDNA) of the aptamer is covalently bound to UiO-67/GR via the chemical complexation between phosphate and Zr-OH groups of UiO-67, and then S. typhimurium and cDNA will compete for the binding sites. The binding of Apt-AuNP-HRP to S.typhimurium leads to the formation of strong conjugates. The unbound signal probes then attach to the surface of a glassy carbon electrode via hybridization with cDNA. This generates a large current response (best measured at a potential as low as −0.02 V vs. saturated calomel electrode) under the catalytic action of HRP on the H2O2-hydroquinone system. Under the optimal conditions, the differential pulse voltammetric signal decreases linearly in the 2 × 101 – 2 × 108 cfu·mL−1 S.typhimurium concentration range, with a lower detection limit of 5 cfu·mL−1 (based on S/N = 3). The method was successfully applied to the detection of S. typhimurium in spiked milk samples.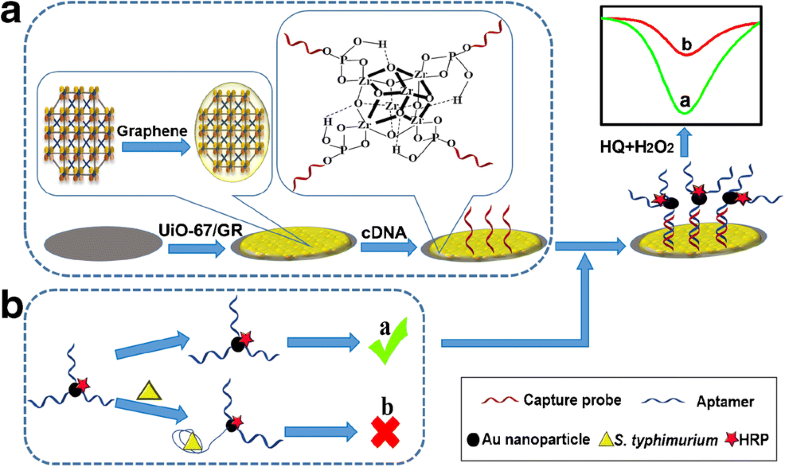 Keywords
Foodborne pathogens 
Signal-off 
Competitive 
Zr-MOF 
In-situ synthesis 
Milk 
Differential pulse voltammetry 
Cyclic voltammetry 
Electrochemical impedance spectroscopy 
Horseradish peroxidase 
Notes
Acknowledgements
This work was supported by the National Natural Science Foundation of China (No. 21575042).
Compliance with ethical standards
The author(s) declare that they have no competing interests.
Copyright information
© Springer-Verlag GmbH Austria, part of Springer Nature 2019