Ultrasensitive electroluminescence biosensor for a breast cancer marker microRNA based on target cyclic regeneration and multi-labeled magnetized nanoparticles
Abstract
An electrochemiluminescent (ECL) biosensor is described for the determination of the breast cancer biomarker microRNA. The method is based on the amplification via target cyclic regeneration through a system of hairpin DNA probes, primers, and Klenow fragment of DNA polymerases combined with CdTe quantum dots (QDs) and gold nanoparticles. The assay is performed by exploiting the luminescence properties of CdTe-QDs and K2S2O8 as a co-reactive agent to increase the ECL signal. It was successfully applied to ECL-based detection of a 20-mer microRNA. The sensor has a linear response in the 0.1 fM to 0.2 pM microRNA concentration range and a detection limit as low as 33 aM. The assay has been applied to the determination of microRNA spiked in serum samples, and recoveries ranged from 94.4 to 100.5%.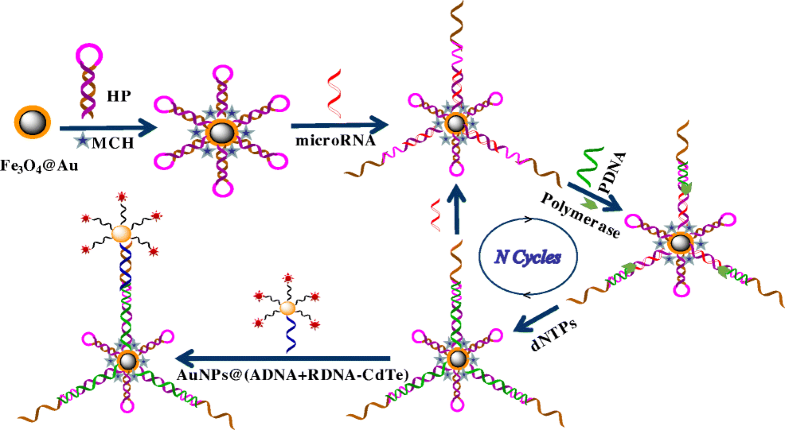 Keywords
Biosensor 
Electrochemiluminescence 
Breast cancer 
MicroRNA 
Quantum dots 
Polymerase 
Enzyme-assistant 
Signal amplification 
Cyclic regeneration 
Serum samples 
Notes
Acknowledgements
The authors gratefully acknowledge the financial support from National Natural Science Foundation of China (No. 21765006), the Natural Science Foundation of Guangxi Province of China (2015GXNSFFA139005; 2018GXNSFAA050023), Guangxi Colleges and Universities Key Laboratory of Food Safety and Detection, High Level Innovation Teams of Guangxi Colleges & Universities and Outstanding Scholars Program (Guijiaoren[2014]49) for this research project.
Compliance with ethical standards
The author(s) declare that they have no competing interests.
Ethical standards and informed consent
The study and experimental sections were approved by the Hospital of Guilin University of Technology. Human serum samples used in this study do not have any identifying information about all the participants that provided written informed consent.
Copyright information
© Springer-Verlag GmbH Austria, part of Springer Nature 2019