Electrochemiluminescent competitive immunoassay for zearalenone based on the use of a mimotope peptide, Ru(II)(bpy)3-loaded NiFe2O4 nanotubes and TiO2 mesocrystals
Abstract
An ultrasensitive competitive-type electrochemiluminescence immunoassay for the mycotoxin zearalenone is described. The method is based on the use of (a) a mimotope peptide that was selected from a phage displayed peptide library and used to substitute ZEN for designing the competitive assay; (b) NiFe2O4 nanotubes with large specific surface area loaded with the ECL probe Ru(bpy)32+; and (c) poly(vinylpyrrolidone) (PVP)-assisted synthesis of TiO2 mesocrystals that acts as the sensing platform and support for antibody immobilization. Under the optimized conditions and at an ECL working potential of 1.1 V, a linear response is found for ZEN in the 0.1 to 1.0 × 10−5 ng·mL−1 concentration range with a detection limit as low as 3.3 fg·mL−1.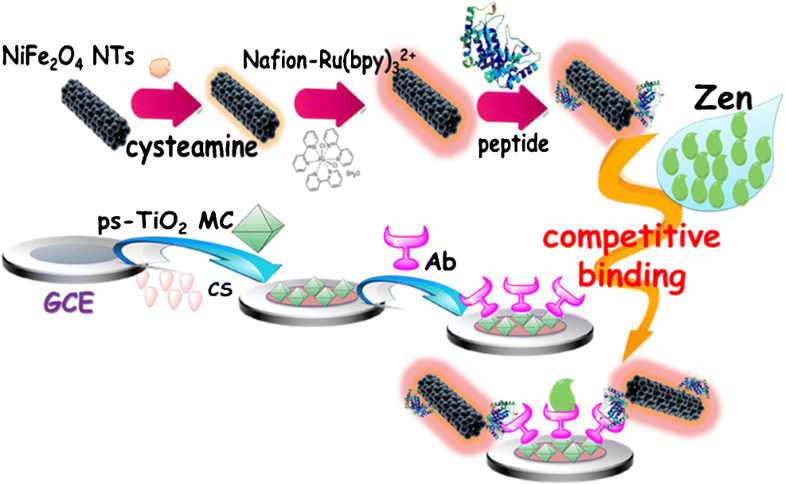 Keywords
Competitive immunosensor 
Zearalenone 
Phage displayed peptide library 
Metal oxide 
Mycotoxin analysis 
Notes
Acknowledgments
This project was financially supported by the NSFC (21877012, 21575024, 21205016), National Science Foundation of Fujian Province (2016 J06003, 2016 J05026, 2017 J01620, 2016 J01429) and Education Department of Fujian Province (JK2016009, FBJG20170186, JA14071) was also greatly acknowledged. All authors thank Huan Yi and Xiangqin Zheng for their help in obtaining and processing actual samples.
Compliance with ethical standards
The author(s) declare that they have no competing interests.
Copyright information
© Springer-Verlag GmbH Austria, part of Springer Nature 2019