Fluorometric atrazine assay based on the use of nitrogen-doped graphene quantum dots and on inhibition of the activity of tyrosinase
Abstract
A fluorometric assay is described for the determination of the herbicide atrazine. The assay is based on the use of tyrosinase and fluorescent nitrogen-doped graphene quantum dots (N-GQDs). The N-GQDs were synthesized via one-pot hydrothermal reaction starting from citric acid and ammonia. Their fluorescence excitation and emission maxima are at 355 and 435 nm, and the quantum yield is 18%. Tyrosinase catalyzes the oxidation of dopamine to form dopaquinone which reduces the fluorescence of the N-GQDs through a dynamic quenching process. On addition of atrazine, the catalytic activity of tyrosinase is inhibited. This leads to less formation of dopaquinone and less reduction of fluorescence. The assay has a linear response in the 2.5–100 ng·mL−1 atrazine concentration range, and the detection limit is 1.2 ng·mL−1. The assay was applied to the determination of atrazine in spiked environmental water samples.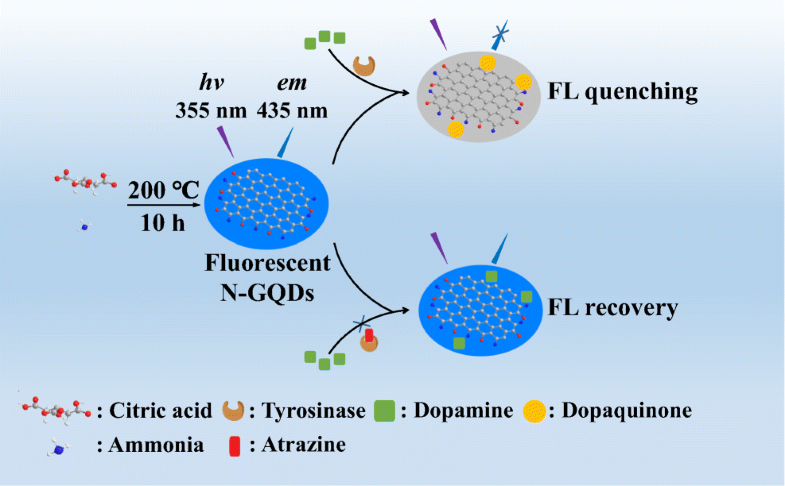 Keywords
Pesticide residue 
Enzyme-based assay 
Carbon nanomaterial 
Quenching 
Hydrothermal reaction 
Fluorescence spectrophotometer 
Transmission electron microscopy 
Fourier transform mid infrared spectroscopy 
X-ray photoelectron spectroscopy 
Real sample analysis 
Notes
Acknowledgements
This work was supported by the National Natural Science Foundation of China (Contract Grants: 21677175).
Compliance with ethical standards
The author(s) declare that they have no competing interests.
Copyright information
© Springer-Verlag GmbH Austria, part of Springer Nature 2019