A voltammetric immunoassay for the carcinoembryonic antigen using silver(I)-terephthalate metal-organic frameworks containing gold nanoparticles as a signal probe
Abstract
A voltammetric immunoassay for the carcinoembryonic antigen (CEA) was developed using silver metal-organic frameworks (Ag-MOFs) as a signal probe. The Ag-MOFs contained a substantial amount of Ag(I) whose electrochemical signal was relatively stable. Therefore, the Ag-MOFs were viable signal probes. The signal can be detected without previous acid dissolution and preconcentration steps. This simplifies the detection steps and reduces the detection time. If CEA binds to its antibody on the modified electrode, the signal for Ag(I) becomes reduced. Measurements were best performed at a potential as low as 0.07 V (vs. SCE) which made the electrode hardly sensitive to potential electroactive interferents. Under optimized conditions, the method included a wide linear response range (0.05 to 120 ng mL−1) and a low detection limit of 8.0 fg mL−1 (S/N = 3). The synthesis of Ag-MOFs is relatively simple, and Ag-MOFs are not only used as nanocarriers for immobilizing anti-CEA but also acted as electroactive materials for a signal probe. The voltammetric immunoassay is stable, inexpensive, sensitive, and selective. Based on these advantages, the method holds great promise for applications in the point-of-care disease and environmental monitoring.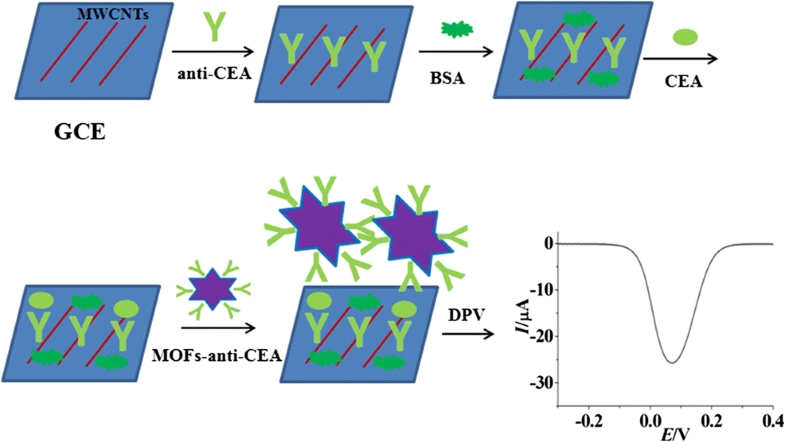 Keywords
Hydrothermal synthesis 
Transmission electron microscopy 
X-ray diffraction 
Cyclic voltammetry 
Nanomaterial 
Notes
Acknowledgments
The authors gratefully acknowledge the financial support of this project by the National Science Fund of China (NO. 21475113, 21575113), the Natural Science Foundation of Shaanxi Province of China (NO. 2018JM2044), the Scientific Research Foundation of Xianyang Science and Technology Bureau (2016 K02-15), and the Research Foundation of Xianyang Normal University (XSYK17012).
Compliance with ethical standards
The author(s) declare that they have no competing interests. All experiments were performed in compliance with relevant laws or guidelines of Xianyang Normal University and approved by the ethics committee at Xianyang Normal University, China. Moreover, informed consent was obtained from human participants of this study.  
Copyright information
© Springer-Verlag GmbH Austria, part of Springer Nature 2019