A ratiometric electrochemical aptasensor for ultrasensitive determination of adenosine triphosphate via a triple-helix molecular switch
Abstract
A ratiometric electrochemical aptamer-based assay is described for the ultrasensitive and highly specific determination of adenosine triphosphate (ATP). It is based on ATP aptamer-mediated triple-helix molecular switch (THMS). The method uses (a) a hairpin DNA (MB-DNA-SH) labeled with the redox probe Methylene Blue (MB) at the 3′ end, and a thiol group at the 5′ end, and (b) a single strand ATP aptamer modified with two ferrocenes at each end (Fc-DNA-Fc). The labeled probe of type MB-DNA-SH was self-assembled onto the surface of a gold electrode via gold-thiol binding. On exposure to Fc-DNA-Fc, it will hybridize with MB-DNA-SH to form a stable THMS structure on electrode surface. In the presence of ATP, it hybridizes with the loop portion of Fc-DNA-Fc, and this results in the unwinding of the THMS structure. Such variation caused the changes of the differential pulse voltammetry (DPV) peak currents of both MB (at around −0.25 V) and Fc (at around 0.39 V; both vs. Ag/AgCl). A significant enhancement is found for the ratio of the two DPV peaks. Under the optimum experimental conditions, this assay has a response that covers the 0.05 to 100 pM ATP concentration range, and the detection limit is 5.2 fM (for S/N = 3). The method is highly selective for ATP over its analogs.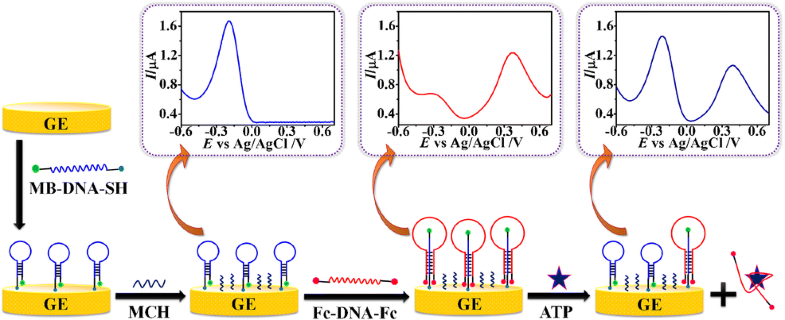 Keywords
Ratiometric strategy 
Differential pulse voltammetry 
Aptamer-target interaction 
Triple-helix nucleic acid hybridization 
Methylene blue 
Ferrocene 
Adenosine analogs 
Structure variation 
Notes
Acknowledgements
This work was financially supported by National Natural Science Foundation of China (21864006, 21563006, 21763005), Natural Science Foundation of Guangxi Province (2017GXNSFDA198034, 2016GXNSFBA380118, 2017GXNSFFA198005), Guangxi Scientific and Technological Development Projects (AD17195081), the China Scholarship Council Project (201708455047, liujinfa[2017]5086), the Thousands of Young Teachers Training Program of Guangxi Province (guijiaoren[2018]18), the High-Level-Innovation Team (guijiaoren[2017]38) and Outstanding Scholar Project of Guangxi Higher Education Institutes, and BAGUI Scholar Program of Guangxi Province of China.
Compliance with ethical standards
The author(s) declare that they have no competing interests.
Copyright information
© Springer-Verlag GmbH Austria, part of Springer Nature 2019