A cytosine-rich hairpin DNA loaded with silver nanoclusters as a fluorescent probe for uranium(IV) and mercury(II) ions
Abstract
A dually responsive fluorescent probe for determination of U(IV) and mercury(II) ions was synthesized. The probe consists of a cytosine-rich hairpin DNA loaded with silver nanoclusters (DNA-AgNCs). The fluorescence of the AgNCs is found to be quenched by UO2(II) at pH 5.0 and Hg(II) at pH 7.0 due to combined static and dynamic quenching. Under the optimal conditions, the green fluorescence of the DNA-AgNCs, best measured at excitation/emission wavelengths of 420/525 nm, decreases in the 4.0 to 75 pM UO2(II) concentration range, and in the 0.3 to 8.0 nM Hg(II) concentration range. The respective detection limits are as low as 1.8 pM and 0.1 nM. The method was successfully applied to the determination of UO2(II) and Hg(II) in (spiked) pond and taps waters and in soil extracts.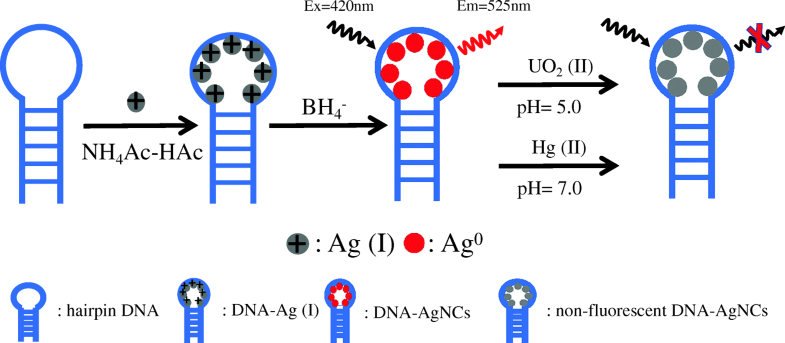 Keywords
DNA-AgNCs 
UO2(II) 
Hg(II) 
Fluorometry 
Quenching 
Dual response 
Cytosine 
C-Ag(I)-C 
Soil sample 
Water sample 
Notes
Acknowledgments
The authors gratefully acknowledge the support of the National Natural Science Foundation of China (No. 11205085), the Department of Education Excellent Youth Project of Hunan Province in China (No. 15B202), the Natural Science Foundation Project of Hunan Province (No. 2018JJ2323), the Technology Innovation Guidance Program Clinical Medical Technology Innovation Guide Project of Hunan Province (No. 2017SK50218), the Open Project Program of the State Key Laboratory of Chemo/Biosensing and Chemometrics, Hunan University (Changsha, China; 2012018), the Defense Industrial Technology Development Program (JCKY2016403C001), and the Key Laboratory of Hengyang for Health Hazard Factors Inspection and Quarantine (No. 2018KJ110).
Compliance with ethical standards
The authors declare that they have no competing interests.
Copyright information
© Springer-Verlag GmbH Austria, part of Springer Nature 2019