A composite prepared from gold nanoparticles and a metal organic framework (type MOF-74) for determination of 4-nitrothiophenol by surface-enhanced Raman spectroscopy
Abstract
Core-shell nanoparticles (NPs) consisting of a gold core and a metal-organic framework shell (type MOF-74) were synthesized via one-pot synthesis. The NPs exhibit highly sensitive and stable SERS activity for the detection of 4-nitrothiophenol, with a specific band at 1337 cm−1. The method has a linear response in 0.10–10 μmol·L−1 analyte concentration range and a lower detection limit of 69 nmol·L−1. The potential application of this novel SERS substrate was evaluated by two model reactions involving 4-nitrothiophenol. The first involves in-situ SERS monitoring of the surface plasmon-induced nitration of aromatic rings without adding conventional acid catalyst. The second involves the photocatalytic reduction of 4-nitrothiophenol to 4-thioaminophenol in the presence of Au/MOF-74 under 785-nm laser irradiation. The plasmon-assisted dimerization of 4-nitrothiophenol to form 4,4′-dimercaptoazobenzene can also be monitored simultaneously.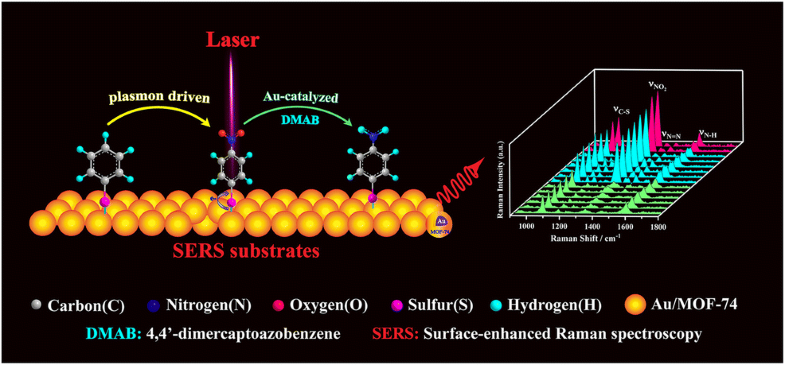 Keywords
Surface-enhanced Raman scattering 
In-situ monitoring 
Reaction process 
Core-shell nanoparticles 
Surface plasmon induced 
4-nitrothiophenol 
Notes
Acknowledgements
We thank the National Natural Science Foundation of China (Nos. 21675178, 21605163 and 21775167), the Guangdong Provincial Natural Science Foundation of China (No. 2016A030313358), and the Research and Development Plan for Key Areas of Food Safety in Guangdong Province of China (No.2019B020211001), respectively.
Compliance with ethical standards
The author(s) declare that they have no competing interests.
Copyright information
© Springer-Verlag GmbH Austria, part of Springer Nature 2019