Gold nanoparticles stabilized with four kinds of amino acid-derived carbon dots for colorimetric and visual discrimination of proteins and microorganisms
Abstract
A colorimetric array is described for the sensitive discrimination of proteins and microorganisms. Carbon dots (CDs) were prepared from citric acid and one of the amino acids glycine, lysine, serine or aspartic acid. They act as stabilizers for gold nanoparticles (AuNPs). The interactions between target protein and the CD/AuNPs induce a different aggregation behavior. This provides the basis for colorimetric discrimination of protein species and results in color changes from red/purple to purple/blue. Specific response patterns are analyzed by linear discriminant analysis. Twelve kinds of proteins with different pI and molecular weight were visually discriminated at nanomolar concentration levels. Alternatively, discrimination can be performed by measurement of the ration of absorbance at 525 nm and 620 nm. The discrimination sensitivity is as low as 2 nM. The method can differentiate between BSA and HSA. Twelve proteins were successfully distinguished in (spiked) urine samples. The discrimination accuracy is 100% at the 500 nM protein concentration level. In addition, different strains of microorganisms (E. coli O157:H7, E.coli ER2738, P. aeruginosa CICC10204; P. aeruginosa CICC21954; B.subtilis CICC10071; B.subtilis CICC10275) can be discriminated successfully via this array.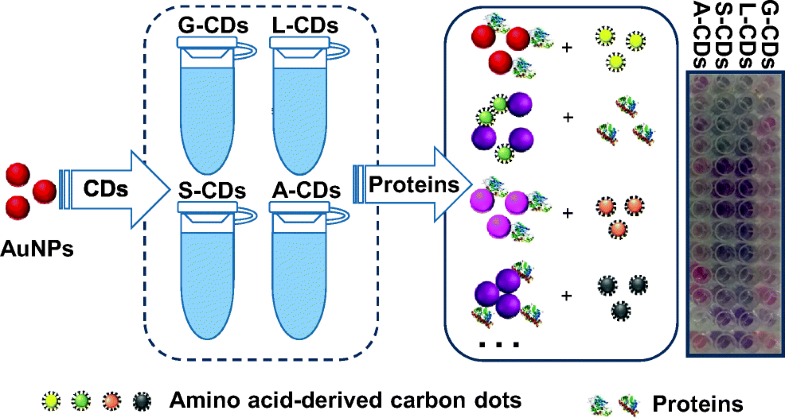 Keywords
Colorimetric method 
Protein discrimination 
Microorganism discrimination 
Ratiometric assay 
Linear discriminant analysis 
Multi-channel array 
Aggregation 
Comparative binding 
Electrostatic interaction 
Hydrophobic interaction 
Notes
Acknowledgements
The authors appreciate financial supports from the Natural Science Foundation of China (21475017, 21727811), and Fundamental Research Funds for the Central Universities (N170506006).
Compliance with ethical standards
The author(s) declare that they have no competing interests.
Copyright information
© Springer-Verlag GmbH Austria, part of Springer Nature 2019