Photoelectrochemical determination of malathion by using CuO modified with a metal-organic framework of type Cu-BTC
Abstract
A photoelectrochemical (PEC) sensor was constructed for the detection of non-electroactive malathion. It is based on the use of a hierarchical CuO material derived from a Cu-BTC metal-organic framework (where BTC stands for benzene-1,3,5-tricarboxylic acid). The modified CuO was obtained by calcination of Cu-BTC at a high temperature (300 °C) and possesses a high photocurrent conversion efficiency. Under irradiation with visible light and in the presence of malathion, the formation of the CuO-malathion complex on the CuO gave rise to an increase in steric hindrance. This results in a decrease in photocurrent. This novel PEC detection method has a lower detection limit of 8.6 × 10−11 mol L−1 and a wide linear range (1.0 × 10−10 ~ 1.0 × 10−5 mol L−1).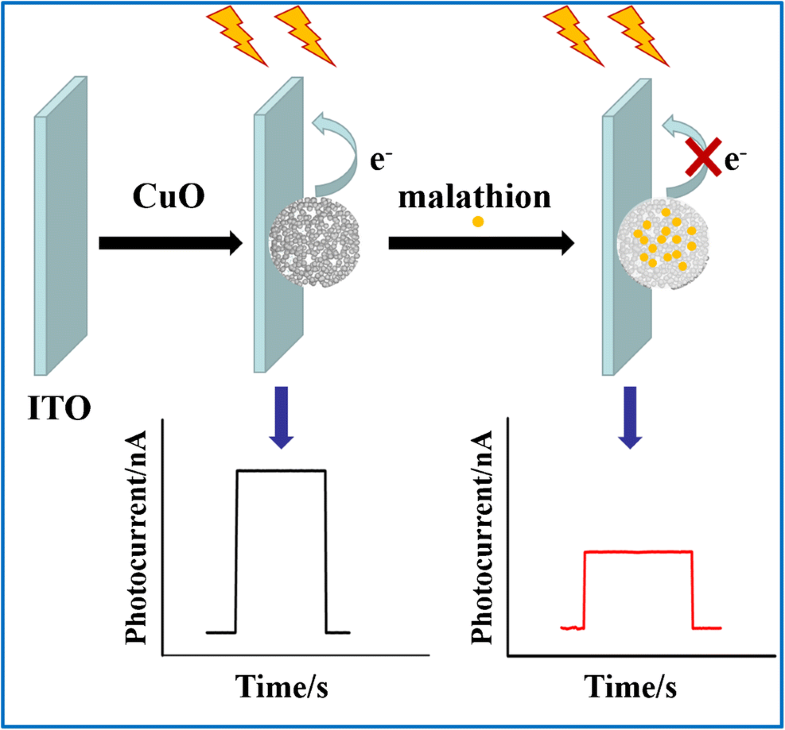 Keywords
Photocurrent 
Pesticides 
Calcination 
Steric hindrance 
Actual sample detection 
Notes
Acknowledgements
This work was supported by the National Natural Science Foundation of China (Grant Nos. 21375116), a project funded by the priority academic program development of Jiangsu higher education institutions (PAPD), top-notch academic programs project of Jiangsu higher education institutions (TAPP), Jiangsu province research program on analytical methods and techniques on the shared platform of large-scale instruments and equipment (BZ 201409), Yangzhou university science and technology innovation cultivation fund (2017CXJ010), and open project of state key laboratory of inorganic synthesis and preparative chemistry, (Jilin University, China, No. 2019-26).
Compliance with ethical standards
The author(s) declare that they have no competing interests.
Copyright information
© Springer-Verlag GmbH Austria, part of Springer Nature 2019