A general scheme for fluorometric detection of multiple oligonucleotides by using RNA-cleaving DNAzymes: application to the determination of microRNA-141 and H5N1 virus DNA
Abstract
A widely applicably method is described for fluorometric determination of targets such as microRNA and viral DNA. It is making use of a Mg(II)-dependent DNAzyme and a G-quadruplex. In the absence of analyte, an inactive DNAzyme is formed by the hybridization of split DNAzymes and substrate. On addition of target analyte, the end of each strand of the split DNAzymes bind the analyte. This leads to the generation of an active DNAzyme. In the presence of Mg(II), the activated DNAzyme is formed and can cleave the substrate strand. Hence, the caged G-quadruplex sequences will be released. These released G-quadruplexes combine with thioflavin T to generate a G-quadruplex/thioflavin T complex and thereby cause amplified fluorescence. The method shows a 70 pM detection limit for H5N1 and works over a wide linear range 1 nM to 400 nM. Conceivably, this detection scheme has a wide scope in that it may be applied to other assays for microRNAs and DNAs by variation of the type of DNAzyme.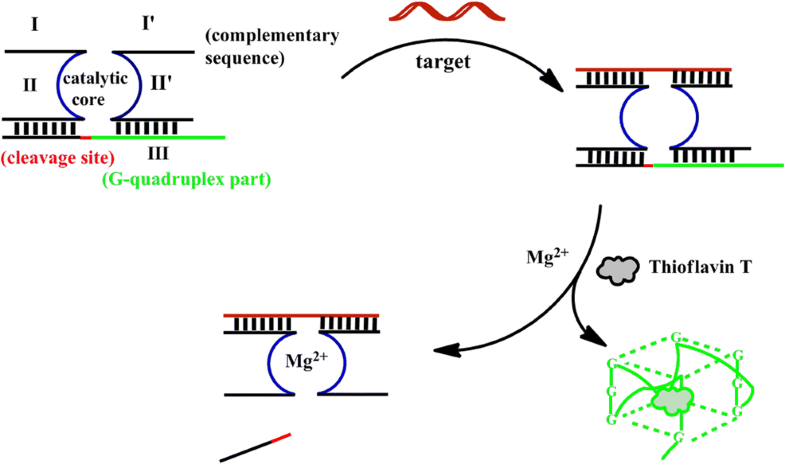 Keywords
Multiple detection 
DNAzyme 
Fluorescence 
G-quadruplexes 
Notes
Acknowledgments
This work was supported by the National Natural Science Foundation of China (No. 21775132), Scientific Research Foundation of Hunan Provincial Education Department (No. 16A204), and the National Natural Science Foundation of Hunan province (No.2018JJ2388). Hunan 2011 Collaborative Innovation Center of Chemical Engineering & Technology with Environmental Benignity and Effective Resource Utilization (IRT_17R90), and "1515"academic leader team program of Hunan Agricultural University.
Compliance with ethical standards
The author(s) declare that they have no competing interests.
Copyright information
© Springer-Verlag GmbH Austria, part of Springer Nature 2019