Enzymatic determination of D-alanine using a cationic poly(fluorenylenephenylene) as the fluorescent probe and MnO2 nanosheets as quenchers
Abstract
A sensitive fluorometric assay is described here for sensitive determination of D-alanine (D-Ala). The method is based on the use of poly[9,9-bis(6-N,N,N-trimethylammonium)hexyl]fluorenylene phenylene (PFP) and manganese dioxide (MnO2) nanosheets. The blue fluorescence of PFP, peaking at 422 nm, is absorbed by the MnO2 nanosheets due to an inner filter effect (IFE). In the presence of D-Ala and D-α-amino acid oxidase (D-AAO), the enzymatic oxidation leads to the production of H2O2, triggering the decomposition of MnO2 nanosheets and the recovery of the fluorescence of PFP. Under the optimum conditions, the nanosensor has a wide linear range from 1.0 nM to 1.0 mM with a detection limit of 0.35 nM. This is about 10–100 times lower than most previously reported methods. The recovery experiment was performed with spiked serum and gave accuracy rates from 97.2 to 109%. The standard deviation is from 2.3% to 7.2%.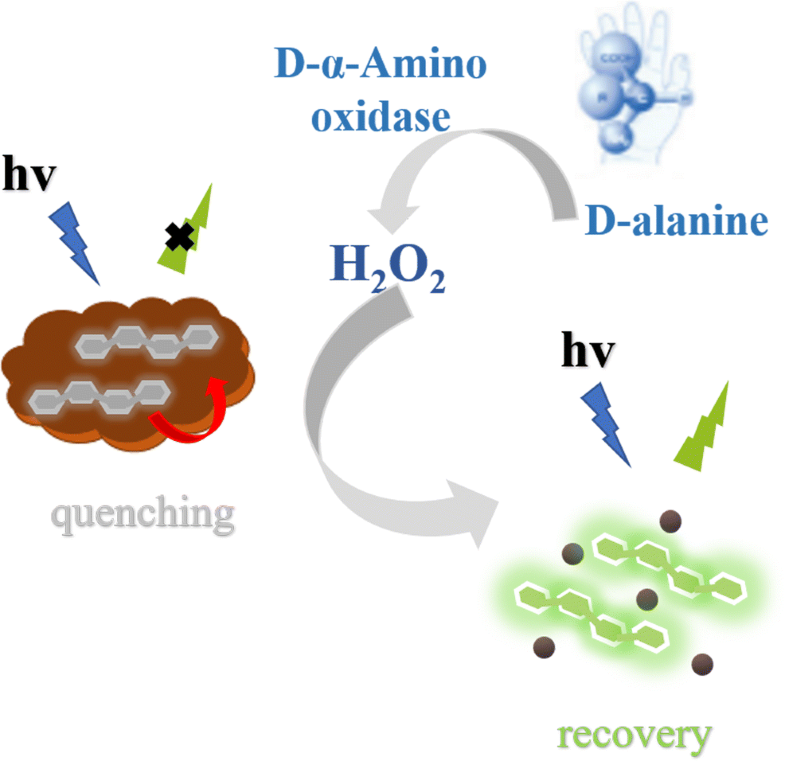 Keywords
Cationic conjugated polymer 
Nanosensor 
Amino acid oxidase 
Gastric cancer 
Inner filter effect 
Notes
Acknowledgements
This work was supported by the National Natural Science Foundation of China (Nos. 21775019, 21635004). Fundamental Research Funds for the Central Universities and A Project Funded by the Priority Academic Program Development of Jiangsu Higher Education Institutions (Nos. 2242018K3DN04), The Open Project of The Key Laboratory of Modern Toxicology of Ministry of Education, Nanjing Medical University (NMUMT201804).
Compliance with ethical standards
The author(s) declare that they have no competing interests.
Copyright information
© Springer-Verlag GmbH Austria, part of Springer Nature 2019