A magnetic covalent aromatic polymer as an efficient and recyclable adsorbent for phenylurea herbicides
Abstract
A magnetic covalent aromatic polymer (Fe3O4-NH2-CAP) was synthesized by grinding a covalent aromatic polymer (CAP) and amino-functionalized magnetic nanoparticles (Fe3O4-NH2 NPs). The CAP was prepared by a Friedel-Crafts reaction between biphenyl and 1,3,5-benzenetricarbonyl trichloride. The interaction in the Fe3O4-NH2-CAP is based on hydrogen bond formation between the carbonyl groups in the CAP and the amino groups in the Fe3O4-NH2 NPs. The adsorbent inherits the advantages of the CAP and also has the superior magnetic property of the Fe3O4 NPs. The adsorbent was applied to magnetic solid-phase extraction of six phenylurea herbicides (metoxuron, monuron, chlortoluron, isoproturon, monolinuron, buturon) from soil and water samples. Following elution with 600 μL methanol, the herbicides were quantified by HPLC. The calibration plots are linear in the 1.00–100 ng g−1 herbicide concentration ranges in case of spiked soil samples, and in the 0.10–40 ng mL−1 concentration range for spiked water samples. The limits of detection range from 0.3 to 0.5 ng g−1 (soil) and from 0.01 to 0.03 ng mL−1 (water), with relative standard deviations of <8.0% and < 6.9%, respectively.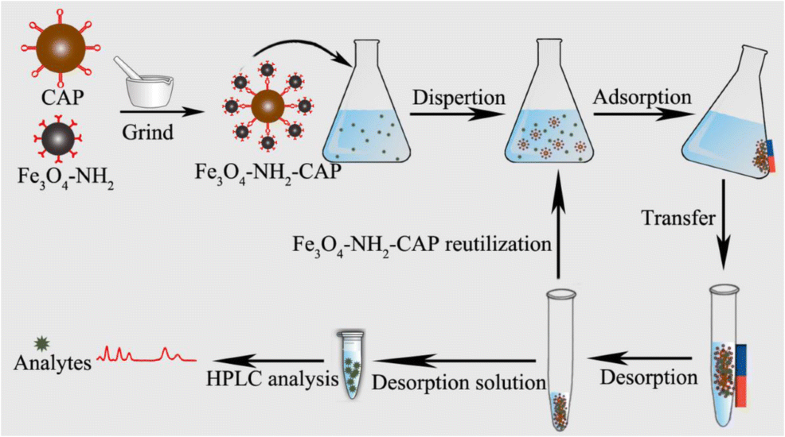 Keywords
Covalent aromatic polymer 
Amino-functionalized iron oxide 
Grinding method 
Magnetic covalent aromatic polymer adsorbent 
Phenylurea herbicides 
Notes
Acknowledgements
Financial supports from the Natural Science Foundation of Hebei Agricultural University (LG201712, ZD201703), the National Natural Science Foundation of China (31471643, 31571925, 31671930), the Natural Science Foundation of Hebei Province (B2016204136, B2016204146, B2017204025), the Hebei "Double First Class Discipline" Construction Foundation for the Discipline of Food Science and Engineering of Hebei Agricultural University (2016SPGCA18) and the Scientific and Technological Research Foundation of the Department of Education of Hebei Province (ZD2016085) are gratefully acknowledged.
Compliance with ethical standards
The author(s) declare that they have no competing interests.
Ethical approval
This article does not contain any studies with human or animal subjects.
Informed consent
Not applicable.
Copyright information
© Springer-Verlag GmbH Austria, part of Springer Nature 2019