A ketone-functionalized carbazolic porous organic framework for sensitive fluorometric determination of p-nitroaniline
Abstract
A novel ketone-functionalized carbazolic porous framework named PBPMCz is presented for fluorometric determination of p-nitroaniline (PNA). PBPMCz was prepared by FeCl3-promoted oxidative coupling polymerization of 1,3,5-tris((4-(9H-carbazol-9-yl)phenyl)methanone-1-yl)benzene. The polymer possesses a BET surface area of above 907 m2∙g−1 with a pore volume of 0.72 cm3∙g−1. Compared to the ketone-free framework, the green fluorescence of the probe PBPMCz is more strongly quenched by PNA. Figures of merit include (a) excitation/emission wavelengths of 366/540 nm; (b) a Stern-Volmer constant (Ksv) of 2.2 × 104 M−1, and (c) a detection limit of 1.1 μM. Furthermore, PBPMCz shows different quenching behaviors of PNA compared with o-nitroaniline and m-nitroaniline. The excellent performance of the fluorescent probe is ascribed to the abundant carbazole sites and ketone groups in PBPMCz. These facilitate the electron transfer and hydrogen-bonding interactions between PNA and the polymer.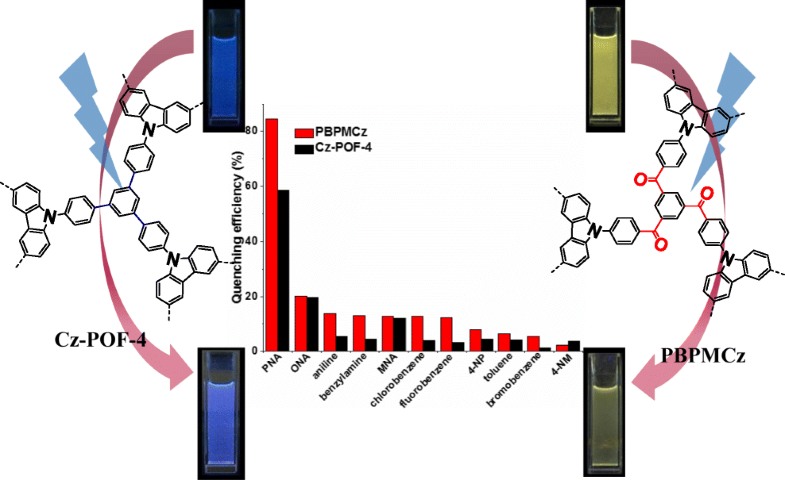 Keywords
Carbazolic porous framework 
Oxidative coupling 
Fluorescence sensing 
Nitroaniline isomers 
Quenching mechanism 
Detection limit 
Electron transfer 
Notes
Acknowledgements
This work was supported by the financial support from the National Natural Science Foundation of China (Grant Nos. 51703031 and 21401053).
Compliance with ethical standards
The author(s) declare that they have no competing interests.
Copyright information
© Springer-Verlag GmbH Austria, part of Springer Nature 2019