Simultaneous voltammetric determination of guanine and adenine using MnO2 nanosheets and ionic liquid-functionalized graphene combined with a permeation-selective polydopamine membrane
Abstract
Guanine and adenine in blood samples can be detected by using an electrochemical sensor based on the use of manganese dioxide (MnO2) nanosheets and ionic liquid functionalized graphene (IL-GR) bound to a polydopamine (PDA) membrane. Both guanine and adenine undergo a redox reaction on the surface of the modified electrode. Cyclic voltammetry and differential pulse voltammetry were used to evaluate the electrochemical behavior of a glassy carbon electrode (GCE) modified with PDA/MnO2/IL-GR. The sensor allows for individual as well as simultaneous determination of guanine and adenine. The working voltage of differential pulse voltammetry at which data were acquired to establish the calibration plot: 0.6–1.2 V for guanine, 0.8–1.4 V for adenine, 0.4–1.4 V for mixture of guanine and adenine. A wide detection range (10–300 μM), low detection limits (guanine: 0.25 μM; adenine: 0.15 μM), selectivity and reproducibility are demonstrated. The modified GCE was successfully applied to the analysis of guanine and adenine in spiked fetal bovine serum and mouse whole blood samples.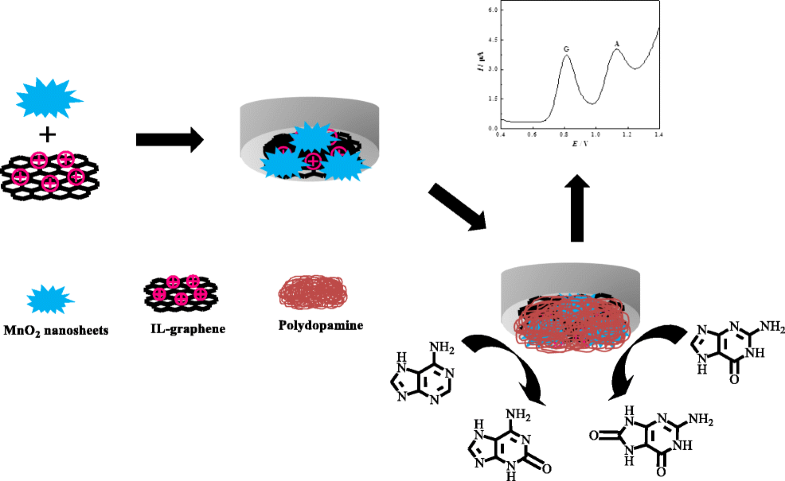 Keywords
Electrochemical 
Nanocomposites 
Sensor 
Guanine 
Adenine 
Fetal bovine serum 
Mouse whole blood 
Notes
Acknowledgments
This work was financially supported by the National Natural Science Foundation of China (21778047, 21675138), and the Department of Science and Technology of Shandong Province of China (No. 2018GSF116011, GG201709290055) and of Yantai City of China (No. 2017ZH093).
Compliance with ethical standards
There are no conflicts to declare.
Copyright information
© Springer-Verlag GmbH Austria, part of Springer Nature 2019