Intracellular fluorometric determination of microRNA-21 by using a switch-on nanoprobe composed of carbon nanotubes and gold nanoclusters
Abstract
A sensitive and rapid fluorometric "switch on" assay is described for the detection of microRNA-21. It is based on the use of a fluorescence resonance energy transfer pair consisting of lysozyme-modified gold nanoclusters (Lys-Au NCs) and carbon nanotubes (CNTs). The Lys-Au NCs can be synthesized by a microwave-assisted technique within 2.5 min. They were modified with the ss-DNA probe (a 22-mer) for microRNA-21. Once the ss-DNA associates with the CNTs due to π stacking, the orange-red fluorescence (with excitation/emission peaks at 500/610 nm) is quenched. Nevertheless, the quenched fluorescence can be recovered after addition of microRNA-21 because of the stronger affnity between ss-DNA and microRNA-21. On the basis of the fluorescence recovery at 610 nm caused by microRNA-21, the latter can be quantified in the 0.01 to 100 nM concentration range, with a 36 pM detection limit. The method was applied to the determination of microRNA-21 in spiked serum with recoveries ranging from 98.6% to 110.0%. It also enables normal and cancer cells to be differentiated by direct imaging of intracellular microRNA-21.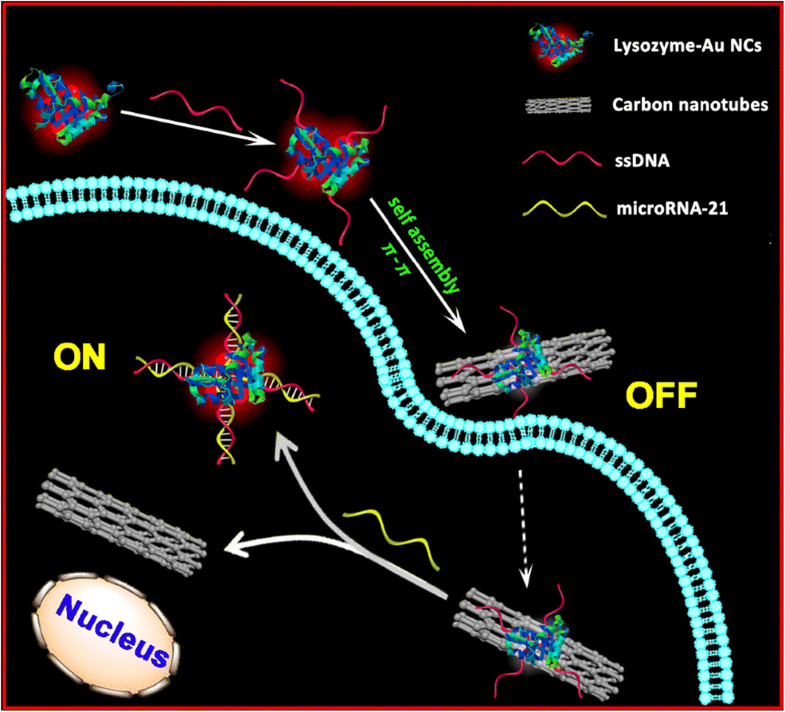 Keywords
Fluorescence resonance energy transfer 
Cell imaging 
Fluorescence 
Hybridization specificity 
Notes
Acknowledgments
The authors gratefully acknowledge the support from the National Nature Science Foundation of China (21505081, 21675093), the Natural Science Foundation of Shandong Province of China (ZR2019YQ13) and the Taishan Scholar Program of Shandong Province, China (ts20110829).
Compliance with ethical standards
The author(s) declare that they have no competing interests.
Copyright information
© Springer-Verlag GmbH Austria, part of Springer Nature 2019