Rapid identification and antibiotic susceptibility test of pathogens in blood based on magnetic separation and surface-enhanced Raman scattering
Abstract
An effective surface-enhanced Raman scattering (SERS) method is presented for the rapid identification and drug sensitivity analysis of pathogens in blood. In a first step, polyethyleneimine-modified magnetic microspheres (Fe3O4@PEI) were used to enrich bacteria from blood samples. Next, the Fe3O4@PEI@bacteria complex was cultured on both ordinary and drug-sensitive plates. Lastly, the SERS spectra of single colonies were acquired in order to identify different pathogens and their resistant strains by comparison with established standardized bacterial SERS spectras and orthogonal partial least squares discriminant analysis (OPLS-DA) method. Staphylococcus aureus, Acinetobacter baumannii, Pseudomonas aeruginosa and their resistant strains were used to evaluate the performance of the SERS method. The results demonstrate that the method can accurately detect and identify all the tested sensitive and drug-resistant strains of bacteria, including 77 clinical blood infection samples. The method provides a way for rapid identification and susceptibility test of pathogens, and has great potential to replace currently used time-consuming methods.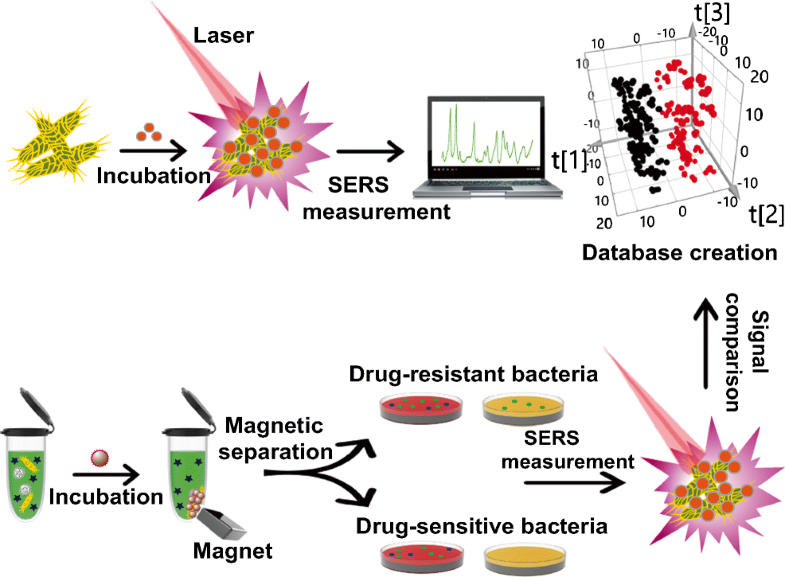 Keywords
SERS 
Raman spectroscopy 
Orthogonal partial least squares discriminant analysis (OPLS-DA) 
Antibiotics 
Cross-validation 
Fe3O4@PEI 
Antibiotic-resistant bacteria 
Identification 
Notes
Acknowledgments
This research was supported by the National Natural Science Foundation of China (No 81471994, 81830101), Jiangsu Provincial Medical Talent (ZDRCA2016053), Six talent peaks project of Jiangsu Province (WSN-135), Advanced health talent of six-one project of Jiangsu Province (LGY2016042), Infectious diseases major project(2018ZX10712001-010).
Compliance with ethical standards
The author(s) declare that they have no competing interests.
Copyright information
© Springer-Verlag GmbH Austria, part of Springer Nature 2019