Hemin-porous g-C3N4 hybrid nanosheets as an efficient peroxidase mimic for colorimetric and visual determination of glucose
Abstract
A method is described for colorimetric determination of glucose by using hemin-porous graphitic carbon nitride (g-C3N4) hybrid nanosheets as a peroxidase mimic. The porous g-C3N4 nanosheets were prepared by a combination of one-pot self-polymerization, pyrolysis and liquid-phase exfoliation. The hemin-porous g-C3N4 hybrid nanosheets were prepared via in-situ deposition. It is shown that the hybrid composite has improved dispersibility, stability, and peroxidase-mimicking activity in the 3,3′,5,5′–tetramethylbenzidine (TMB)/H2O2 system. This is deemed to be the result of the synergistic effect of hemin and porous g-C3N4 nanosheets. Based on these advantages of the nanosheets, a simple, low-cost, sensitive and selective colorimetric method was established for the determination of glucose at pH values around 7. Best performed at a wavelength of 652 nm, the assay has a linear response in the 10.0 μM to 500 μM glucose concentration range (R2 = 0.9942) and a 1.94 μM limit of detection. This method was successfully applied to the determination of glucose in (spiked) human serum samples. In our perception, the hybrid is a robust peroxidase mimic for use in POx-based assays as needed in medical diagnosis and environmental analysis.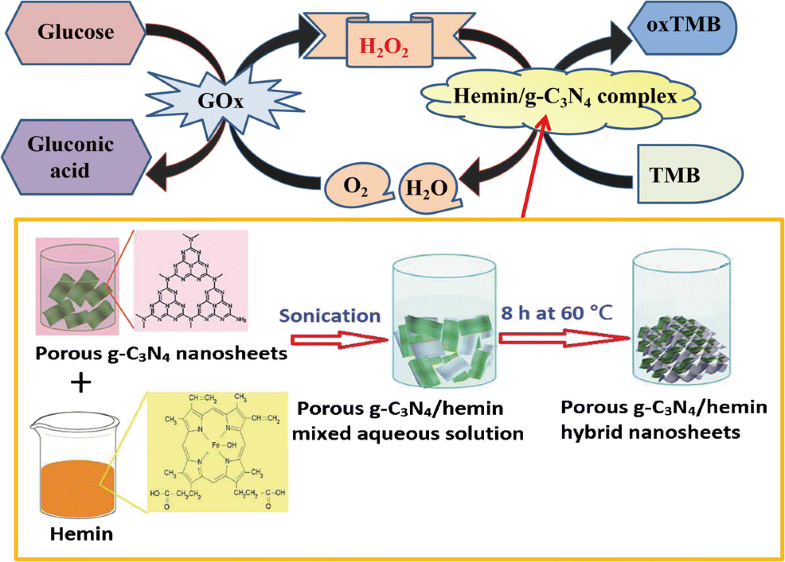 Keywords
Porous carbon nitride 
Self-polymerization 
Liquid-phase exfoliation 
Synergistic effect 
Human serum 
Notes
Acknowledgements
We acknowledge the financial support from the Natural Science Foundation of China (Grant No. 81773689, No. 81703466 and No. 81573391), the China Postdoctoral Science Foundation (No. 2016 M592774 and No. 2018 T111077), the Shaanxi Province Postdoctoral Science Foundation (No. 2016BSHYDZZ13), and the Shaanxi Province Natural Science Foundation of China (Grant No. 2017JQ2027).
Compliance with ethical standards
The author(s) declare that they have no competing interests.
Copyright information
© Springer-Verlag GmbH Austria, part of Springer Nature 2019