Chitosan-based sorbent for efficient removal and extraction of ciprofloxacin and norfloxacin from aqueous solutions
Abstract
Nanosheets prepared from magnesium oxide, chitosan and graphene oxide (MgO/Chit/GO) were hydrothermally synthesized and used as a sorbent for removal of ciprofloxacin and norfloxacin from aqueous solutions. Residual antibiotics in sample were determined by HPLC/UV instrument. The sorbent was characterized by FTIR, XRD, BET, SEM, and TEM. Its high adsorption capacity is attributed to the high surface area (294 m2.g−1) as compared to bare MgO/chit or bare GO. The pore size of the mesoporous sorbent typically is 15 Å. The adsorption isotherms for the two model antibiotics studied (norfloxacin, ciprofloxacin) can be described with the Langmuir model, and the maximum adsorption capacities are 1111 and 1000 mg.g−1 for ciprofloxacin and norfloxacin, respectively. The analysis of the kinetic data revealed that the synthesized sorbent followed pseudo-second-order kinetics and the maximum equilibrium was at over 120 and 150 min for ciprofloxacin and norfloxacin, respectively. Therefore, it is introduced as an economical, eco- friendly, and high-performance sorbent for removal of antibiotics from aqueous solutions.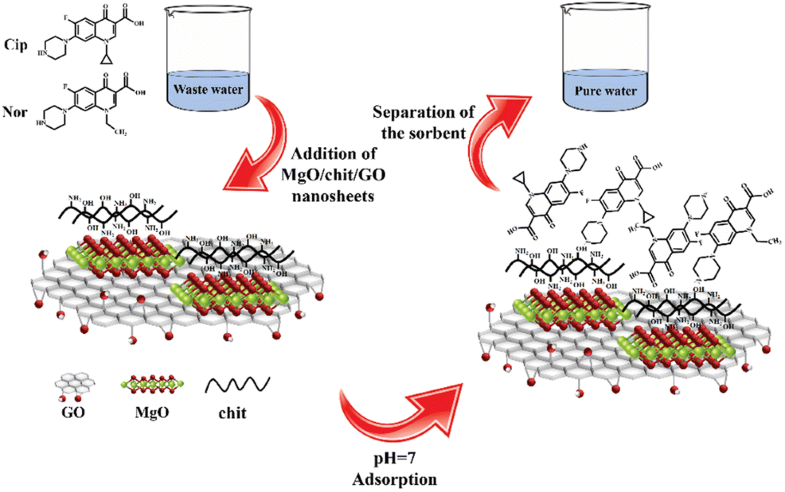 Keywords
High-performance removal 
Drug extraction 
Adsorption 
Green synthesis 
Nanosheet 
Magnesium oxide 
Graphene oxide 
Notes
Acknowledgments
The authors are grateful for the financial support from Tarbiat Modares University.
Compliance with ethical standards
The author(s) declare that they have no competing interests.
Copyright information
© Springer-Verlag GmbH Austria, part of Springer Nature 2019