Electrochemiluminescence "turn-off" detection of curcumin via energy transfer using luminol-doped silica nanoparticles
Abstract
A method is presented for electrochemiluminescent (ECL) detection of the food additive curcumin via an energy transfer strategy and by using luminol-doped silica nanoparticles (luminol-NPs). The ECL emission of the luminol-NPs (peaking at 425 nm) is reduced in the presence of curcumin due to spectral overlap. The assay can be performed within 1 min, response is linear in the 0.1 to 100 µM curcumin concentration range, and the limit of detection is 32 nM. The method is selective over many ions, adenosine triphosphate, ascorbic acid, cysteine and folic acid. It was successfully applied to the determination of curcumin in spiked human serum and urine. The average recoveries range from 99.0 to 102.6%.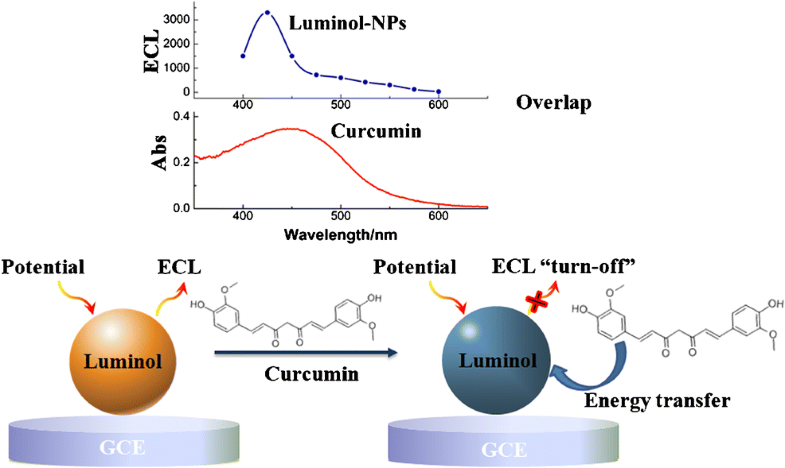 Keywords
Electrochemiluminescence (ECL) 
Food additive 
Curcumin 
Energy transfer 
Spectral overlap 
Serum 
Urine 
Notes
Acknowledgements
This project was supported by the National Natural Science Foundation of China (No. 21505011), Chongqing Research Program of Basic Research and Frontier Technology (No. cstc2018jcyjAX0742) and Program for Top-Notch Young Innovative Talents of Chongqing Normal University (No. 02030307-00042).
Compliance with ethical standards
The author(s) declare that they have no competing interests.
Copyright information
© Springer-Verlag GmbH Austria, part of Springer Nature 2019