Fluorescent silver nanoclusters as antibody label in a competitive immunoassay for the complement factor H
Abstract
Silver nanoclusters (AgNCs) were investigated as labels for the development of a fluoroimmunoassay for the complement factor H (CFH). The reductive one-pot synthesis of AgNCs using lipoic acid as a ligand was optimized by varying the concentration of NaBH4, the temperature and the reaction time. The average diameter and crystal structure of the AgNCs (which display red fluorescence) were determined by HR-TEM. The silver concentration was quantified by ICP-MS. Labelling of the antibody against CFH with AgNCs was optimized. The antibody was labeled with the AgNCs without compromising the recognition capabilities of the antibody. A competitive fluoroimmunoassay was then developed. Fluorescence is measured at excitation/emission maxima of 430/660 nm. The assay has a 0.4 ng mL−1 detection limit and a linear range that extends from 1.2 to 23 ng mL−1. The results compare favorably with those obtained by a commercial ELISA kit. The method was applied to the determination of CFH in spiked human serum.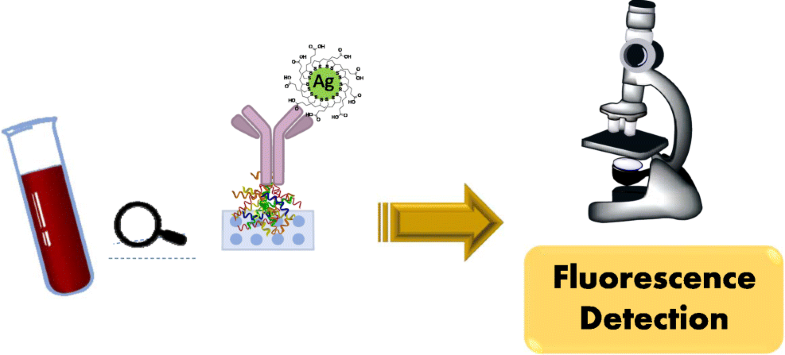 Keywords
Fluoroimmunoassay 
Lipoic acid 
One-pot synthesis 
Carbodiimide 
Labelling 
Human serum 
Notes
Acknowledgements
This work was supported through project CTQ2016-79015-R by Agencia Estatal de Investigación (Spain) and FEDER. B. Fernandez acknowledges her contract RYC-2014-14985 to the Spanish Ministry of Economy and Competitiveness through the "Ramón y Cajal Program". The Instituto Oftalmológico Fernández-Vega and Fundación de Investigación Oftalmológica acknowledge support from "Cátedra Rafael del Pino" and from Instituto de Desarrollo Económico del Principado de Asturias (IDEPA) and FEDER (project IDE/2016/000214).
Compliance with ethical standards
The author(s) declare that they have no competing interests.
Copyright information
© Springer-Verlag GmbH Austria, part of Springer Nature 2019