A semi-quantitative rapid multi-range gradient lateral flow immunoassay for procalcitonin
Abstract
A rapid semi-quantitative gradient lateral flow immunoassay (LFIA) of procalcitonin (PCT), a peptide precursor of the hormone calcitonin, was developed. The method is based on particular analyte cut-offs by immobilizing specific antibodies on the test strip with a consistent (gradient) increase in concentration from line to line. Semi-quantitative multi-range analysis is evaluated visually by counting the number of colored test lines corresponding to a certain concentration range of sepsis marker: [PCT]˂0.25; 0.25 ≤ [PCT] < 0.5; 0.5 ≤ [PCT] < 2; 2 ≤ [PCT] < 10; [PCT] ≥ 10 ng·mL−1. This multi-range gradient LFIA was implemented by using two types of label: spherical gold nanoparticles (35 nm) and hierarchical popcorn-like gold nanoparticles (100 nm). The comparison of this LFIA with an ELISA (for n = 82) yielded 87.5% and 76.6% sensitivities, and 92.3% and 92.3% specificities, respectively. Thus, multi-range gradient LFIA performs well at PCT thresholds, which is important for early diagnosis of sepsis and severe bacterial infection. In our perception, this method has a wide scope in that it may be implemented in numerous other LFIA based test systems.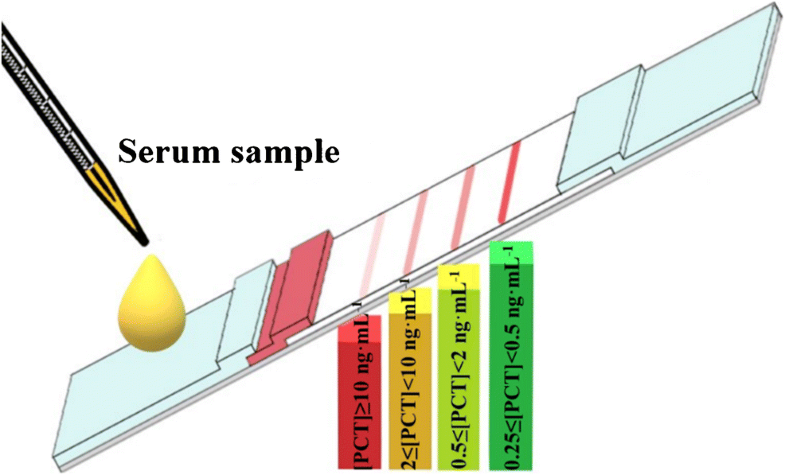 Keywords
Barcode 
Immunochromatography 
Test strip 
Cut-off adjustment 
Gold nanospheres 
Gold nanopopcorns 
Sepsis marker 
Diagnostic cut-offs 
Notes
Acknowledgements
We thank the medical staff of department of clinical laboratory headed by Natalia S. Pozhenko for ensuring the highest possible level of data capture and sample collection.
Funding
The work was financially supported by the Ministry of Education and Science of the Russian Federation as a based part of state assignment Organization of scientific researches (project No. 16.6548.2017/BY).
Compliance with ethical standards
The author(s) declare that they have no competing interests.
Copyright information
© Springer-Verlag GmbH Austria, part of Springer Nature 2019