Polypyrrole nanotubes for electrochemically controlled extraction of atrazine, caffeine and progesterone
Abstract
Polypyrrole (PPy) was electrochemically synthesized with charge control on the surface of a steel mesh. Two different morphologies (globular and nanotubular) were created and characterized by scanning electron microscopy (SEM) and transmission electron microscopy (TEM). The modified electrodes were used as extraction phases in solid-phase extraction (SPE) and electrochemically controlled solid-phase extraction (EC-SPE) of atrazine, caffeine and progesterone. Raman spectroscopy was employed for the structural characterization of PPy after long exposure to the analytes. The electrochemical behavior was studied by cyclic voltammetry which revealed the higher capacitive behavior of polypyrrole nanotubes because of the huge superficial area, also no electrocatalytical behavior was observed evidencing the strong adsorption of the analytes on the PPy surface. The effects of the PPy oxidation state on the extraction performance were evaluated by in-situ electrochemical sorption experiments. The sorption capacity was evaluated by gas chromatography coupled to mass spectrometry (GC-MS). The method displays good stability, repeatability and reproducibility. The limits of detection range between 1.7–16.7 μg L−1. Following the extraction of river water samples, it was possible to identify the presence of other endogenous organic compounds besides the analytes of interest. This indicates the potential of the method and material developed in this work.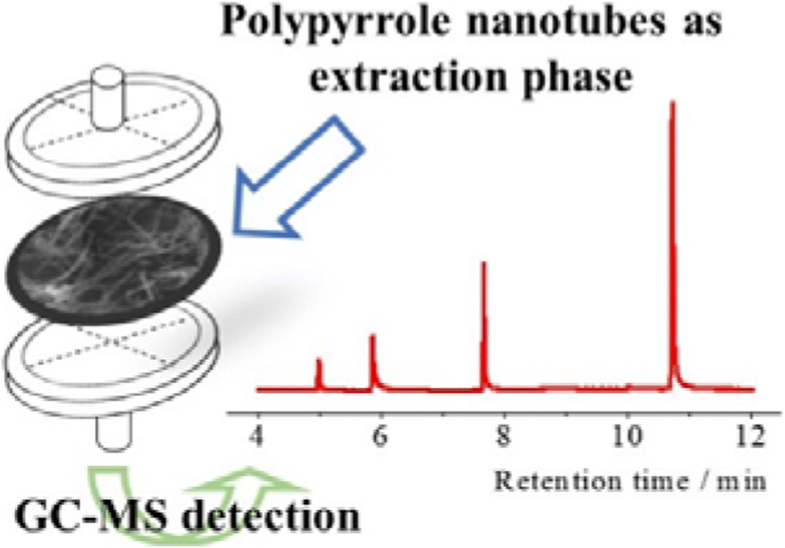 Keywords
Electrosynthesis 
Extraction phase 
Electrochemical control 
Contaminants of emerging concern 
GC-MS detection 
Adsorption on nanostructures 
Notes
Acknowledgments
The authors thank the Brazilian agencies Fundação Araucária, Coordenação de Aperfeiçoamento de Pessoal de Nível Superior – CAPES (Finance Code 001) and Conselho Nacional de Desenvolvimento Científico e Tecnológico – CNPq (442541/2014-7) for financial support, Centro de Microscopia Eletrônica (CME-UFPR) and INCT in Bioanalytics (FAPESP grant no. 2014/50867-3 and CNPq grant no. 465389/2014-7).
Compliance with ethical standards
The author(s) declare that they have no competing interests.
Copyright information
© Springer-Verlag GmbH Austria, part of Springer Nature 2019