Eggshell membrane-templated gold nanoparticles as a flexible SERS substrate for detection of thiabendazole
Abstract
The authors describe a three-dimensional (3D) flexible interconnected porous nanocomposite membrane for use in surface-enhanced Raman scattering (SERS). It was obtained via in -situ deposition of gold nanoparticles (AuNPs, ca. 10 nm) on eggshell membranes (ESM). The AuNP/ESM nanocomposites were used as a SERS substrate for detection of the pesticide thiabendazole (TBZ) with prominent Raman bands at 1180, 1280, and 1580 cm−1. The abundant "hot spots" are generated by the closely arranged AuNPs in the 3D geometry of the ESM networks. This makes the SERS substrate highly sensitive because of remarkable signal amplification. The substrates were applied to the rapid detection of TBZ in Oolong tea. The limit of detection for TBZ is 0.1 ppm.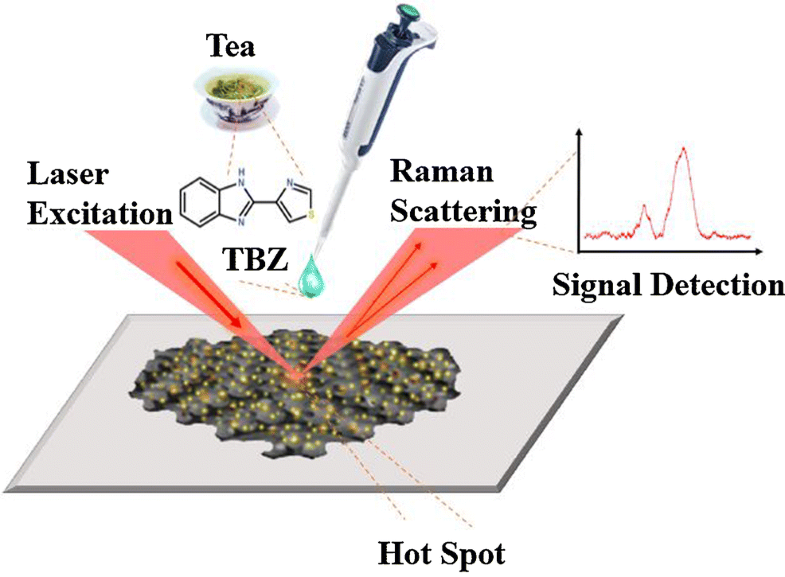 Keywords
Hot spot 
Network 
Pesticides 
Food safety 
Tea analysis 
Nanotechnology 
Notes
Acknowledgements
This study was supported by the National Natural Science Foundation of China (Grant No. 81472001), the Tongjiang Scholars Program of Quanzhou City, Natural Science Foundation of Fujian Province (2015 J05030), and Quanzhou City Science & Technology Program of China (2017G023).
Compliance with ethical standards
The author(s) declare that they have no competing interests.
Copyright information
© Springer-Verlag GmbH Austria, part of Springer Nature 2019