Voltammetric determination of adefovir dipivoxil by using a nanocomposite prepared from molecularly imprinted poly(o-phenylenediamine), multi-walled carbon nanotubes and carbon nitride
Abstract
An electrochemical sensor for adefovir dipivoxil (ADV) detection was prepared by electropolymerization of o-phenylenediamine in the presence of ADV on a glassy carbon electrode modified with multi-walled carbon nanotubes and carbon nitride. The electrode was characterized by field emission scanning electron microscopy and differential pulse voltammetry. The performance was optimized by response surface methodology. The changes in differential pulse voltammetric peak currents of the redox probe, ferricyanide, were linear to ADV concentrations in the range from 0.1 to 9.9 μmol L-1, with the detection limit of 0.05 μmol L-1 (S/N = 3). The sensor was applied to the determination of ADV in drug formulations, human serum and urine samples. It is selective due to the use of an imprinted material, well reproducible, long-term stable, and regenerable.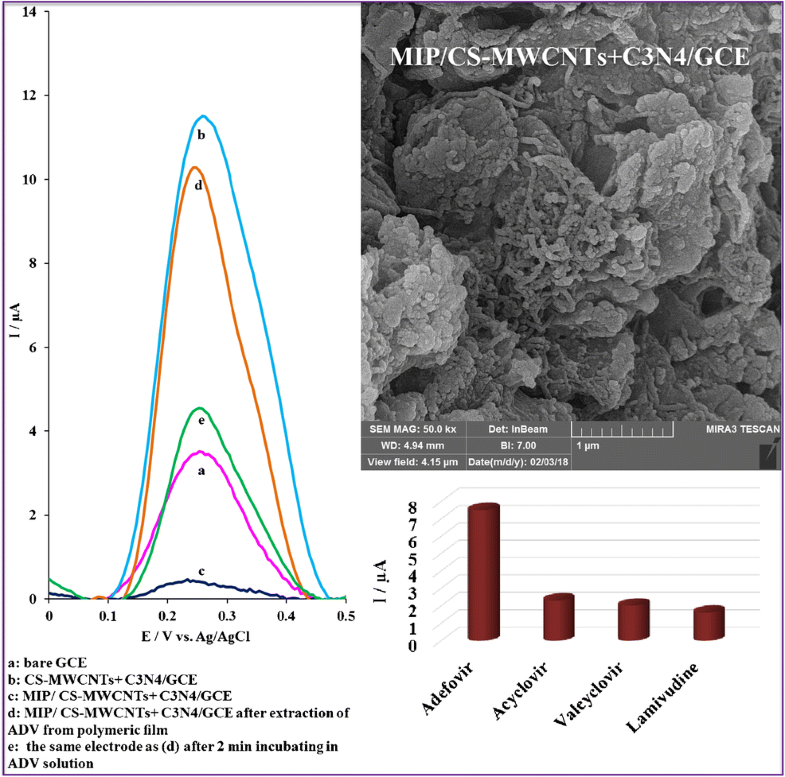 Keywords
Voltammetric sensor 
Multi-walled carbon nanotubes 
Molecularly imprinted polymer 
Carbon nitride 
Notes
Acknowledgements
Financial supports of the work by Alzahra University Research Council and Iranian National Science Foundation (INSF) (grant number 97009016) are highly acknowledged.
Compliance with ethical standards
The author(s) declare that they have no competing interests.
Copyright information
© Springer-Verlag GmbH Austria, part of Springer Nature 2019