A screen-printed electrode modified with tungsten disulfide nanosheets for nanomolar detection of the arsenic drug roxarsone
Abstract
A sensitive electrochemical (voltammetric; DPV) sensor has been developed for the determination of coccidiostat drug (roxarsone) based on the use of an SPCE (screen-printed carbon electrode) modified with tungsten disulfide nanosheets (WS2 NSs). The electrochemical detection of roxarsone on the WS2-modified SPCE was examined by electrochemical strategies. XPS, XRD, Raman, SEM, TEM, EDS and EIS were used to characterize the nanosheets. The effects of scan rate, pH values (phosphate buffer) and buffer concentration were optimized. A selective roxarsone sensor was developed that works best at -0.64 V (vs. Ag/AgCl) and performs much better than the bare SPCE. Features include (a) a wider linear range (0.05 to 490 μM), (b) a nanomolar detection limit (0.03 μM) and (c) high sensitivity (29 μA·μM-1·cm-2). The modified SPCEs have been successfully applied to the determination of roxarsone in spiked meat samples where they gave high accuracy and good recoveries.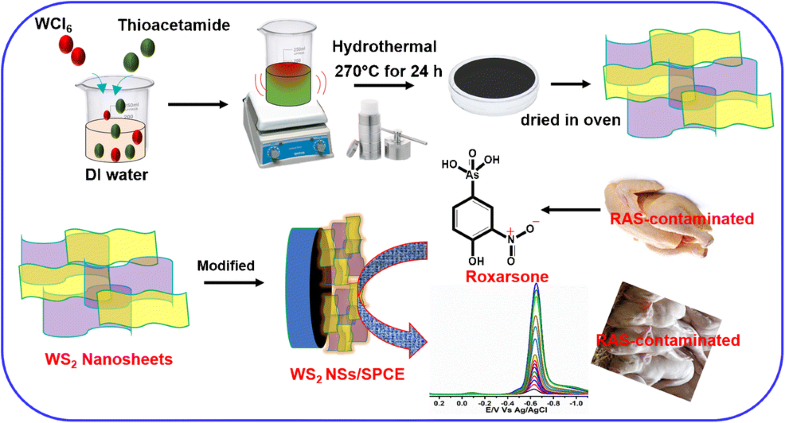 Keywords
Food safety 
Toxic drugs 
Modified electrode 
Metal dichalcogenides 
Nanosheets 
Electrochemical detection 
Organo-arsenic drug detection 
Feed additive detection 
Notes
Acknowledgments
Financial assistance received from National Taipei University of Technology is gratefully acknowledged. One of the author Dr. Govindasamy Mani would like to gratitude National Taipei University of technology for the post-doctoral fellowship. The authors (R. Jothiramalingam, King Saud University, Saudi Arabia) extend their appreciation to Research & Development Office-Ministry of Education for funding this research work, through the High Quality and Impact Research Initiative. Saudi Arabia.
Compliance with ethical standards
The author(s) declare that they have no competing interests.
Copyright information
© Springer-Verlag GmbH Austria, part of Springer Nature 2019