A chitosan grafted mesoporous carbon aerogel for ultra-sensitive voltammetric determination of isoniazid
Abstract
A screen-printed carbon electrode (SPCE) was modified with chitosan (Chit) supported on carbon aerogel (CA) to obtain an electrochemical sensor for the tuberculosis drug isoniazid (INZ). The interconnected mesoporous structure of Chit/CA provides a large surface area (SBET = 461 m2 g−1) and good porosity (VTot = 0.69 cm3 g−1). Besides, the modified SPCE displayed enhanced electrocatalytic activity due to the presence of numerous active sites (such as >C=O, -NH-, -NH2, -OH). Figures of merit include (a) a typical working voltage of 0.28 V (vs. Ag/AgCl), (b) high sensitivity (8.09 μA μM−1 cm−2), (c) a wide linear response to INZ (0.01–115 μM) and (d) a low detection limit (8 nM). The modified electrode has successfully been applied to the determination of INZ in spiked serum and urine, and recoveries ranged from 97.8 to 99.8%.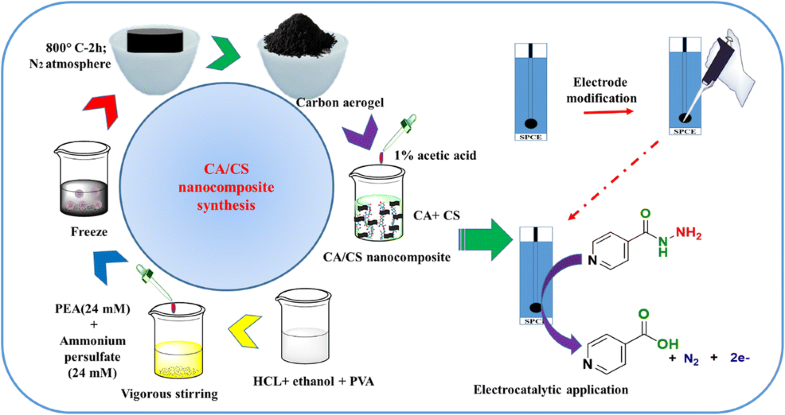 Keywords
Carbon aerogel 
Chitosan 
Tuberculosis drug 
Electrochemical sensor 
Serum and urine 
Notes
Acknowledgments
R.S. acknowledge the support provided by the Academia Sinica research program on Nanoscience and Nanotechnology under project number NM004. RS acknowledges the support by the Development of Novel Thermoelectric Materials for Sustainable Energy Academia Sinica in Taiwan AS-SS-106-01-1. The authors are grateful for the financial support (MOST106-2113-M-027-003 and MOST106-2221-E-182-021) from the Ministry of Science and Technology (MOST), Taiwan.
Compliance with ethical standards
The author(s) declare that they have no competing interests.
Copyright information
© Springer-Verlag GmbH Austria, part of Springer Nature 2019