Fluorometric and resonance Rayleigh scattering dual-mode bioprobe for determination of the activity of alkaline phosphatase based on the use of CoOOH nanoflakes and cobalt(II)-dependent DNAzyme-assisted amplification
Abstract
The authors describe a fluorometric and resonance Rayleigh scattering dual-mode scheme for detection of the activity and inhibition of alkaline phosphatase (ALP). The method utilizes (a) CoOOH nanoflakes, which have high resonance Rayleigh scattering activity and can strongly adsorb ssDNA, and (b) Co(II)-dependent DNAzyme assisted signal amplification. ALP specifically catalyzes the hydrolysis of ascorbic acid-2-phosphate to produce ascorbic acid which reduces CoOOH nanoflakes to Co(II) ion. The Co(II)-dependent DNAzyme is then activated by Co(II) ion, and this results in the cleavage of a substrate labeled with both a fluorophore and a quencher. Following hydrolysis, fluorophore and quencher become separated and the fluorescence measured at excitation/emission wavelengths of 490/518 nm recovers, while the RRS signal at 405 nm decreases. The method works on the 0.2 to 2000 U L−1 ALP activity range, and the detection limit is 0.05 U L−1. The method was used to validate the mechanism of the action of two classical ALP inhibitors (EDTA and Na3VO4). Conceivably, it can also be applied to screen for ALP inhibitors.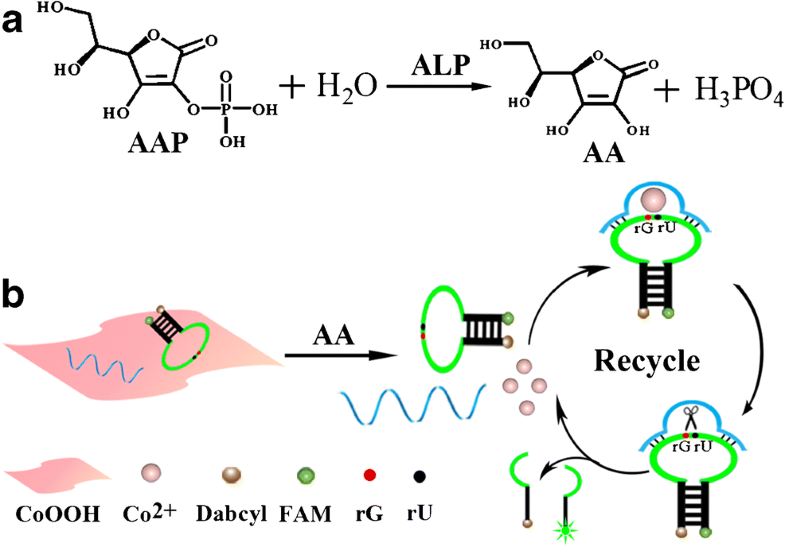 Keywords
Molecular beacon 
Cycle 
Cobalt oxyhydroxide 
DNA 
RRS 
Inhibitor 
Metal ion-dependent DNAzymes 
Na3VO4 
Nanosheet 
Ascorbic acid 
Notes
Acknowledgements
The authors sincerely acknowledge the support of the National Natural Science Foundation of China (No. 21675131, 21273174), and the Natural Science Foundation of Chongqing (No. CSTC-2015jcyjB50001).
Compliance with ethical standards
The authors declare that they have no competing interests.
Copyright information
© Springer-Verlag GmbH Austria, part of Springer Nature 2019