An electrochemical sandwich immunosensor for cardiac troponin I by using nitrogen/sulfur co-doped graphene oxide modified with Au@Ag nanocubes as amplifiers
Abstract
A voltammetric sandwich immunoassay is described for the biomarker cardiac troponin I (cTnI). The gold nanocube-functionalized graphene oxide (AuNC/GO) is employed as a substrate to accelerate the electron transfer and to immobilize more primary antibodies. It also employs composite materials prepared from bimetallic gold/silver core-shell nanocubes and nitrogen and sulfur co-doped reduced graphene oxide as the signal amplifier. The introduction of N and S into GO enlarges the active surface and accelerates the electron transfer rate. Such unique characteristics render the material an effective support substrate to load more Au@AgNC and to immobilize an increasing number of second antibodies via Ag-N bonds. After specific binding with cTnI, the immunosensor was incubated in a labeled cTnI secondary antibody solution. The amperometric signal change is then measured at 0.34 V (vs. SCE) using o-phenylenediamine and hydrogen peroxide as an electrochemical probe. Response is linear in the concentration range from 100 fg∙mL−1 to 250 ng∙mL−1, and the detection limit is 33 fg∙mL−1.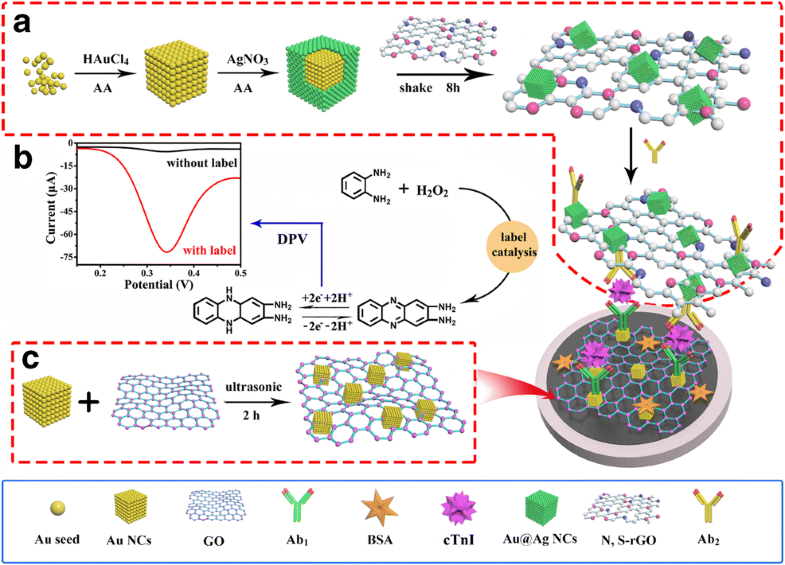 Keywords
Sandwich immunoassay 
Core-shell nanocube 
Multiple signal amplification 
Specific binding 
Electrochemical probe 
Notes
Acknowledgments
This study was financially supported by the Key Research and Development Program of Shandong Province (No. 2018GSF120001, 2018GNC110038), the National Natural Science Foundation of China (Nos. 21575079). All of the authors express their deep thanks.
Compliance with ethical standards
The author(s) declare that they have no competing interests.
All experiments were performed in compliance with relevant laws or guidelines of Shandong University of Technology and approved by the ethics committee at Shandong University of Technology, China. Moreover, informed consent was obtained from human participants of this study.
Copyright information
© Springer-Verlag GmbH Austria, part of Springer Nature 2019