MnO2 nanosheets as oxidase mimics for colorimetric detection of alkaline phosphatase activity
Abstract
A sensitive colorimetric method is described for the determination of the activity of alkaline phosphatase (ALP). It is based on the regulation of the oxidase-mimicking activity of MnO2 nanosheets. In the absence of ALP, MnO2 nanosheets are capable of catalyzing the oxidation of the colorless substrate 3,3′,5,5′-tetramethylbenzidine (TMB) by oxygen to form a blue oxidized product (TMB Ox) with an absorption peak at 652 nm. In the presence of ALP and its substrate ascorbic acid-2-phosphate, the latter is hydrolyzed to form ascorbic acid (AA). AA triggers the decomposition of MnO2 nanosheets by reducing MnO2 to Mn2+, thereby weakening the enzyme mimicking activity of the MnO2 nanosheets and causing a drop in absorbance. The drop in absorbance at 652 nm is related to the ALP activity in the range from 0.05–10 m-units per mL (mU·mL−1), and the detection limit is 0.05 mU·mL−1. The method was applied to the determination of ALP in spiked calf serum samples and gave satisfactory results.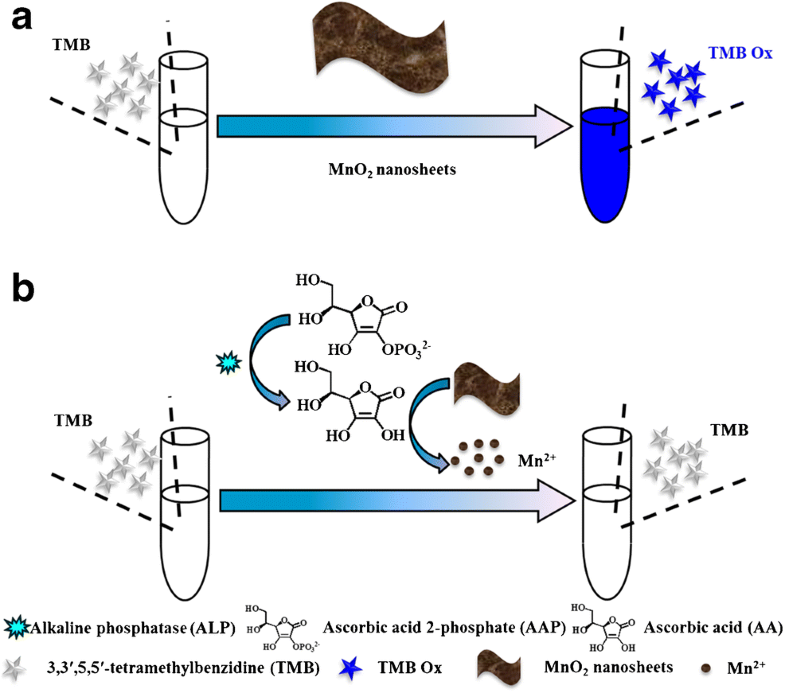 Keywords
Enzyme activity assay 
Visual detection 
Nanozyme 
Ascorbic acid 
Ascorbic acid-2-phosphate 
3,3′,5,5′-Tetramethylbenzidine 
Notes
Acknowledgements
The authors thank the National Natural Science Foundation of China (No. 21405125), the Natural Science Foundation Project of CQ (No. cstc2018jscx-msybX0263) and the Fundamental Research Funds for the Central Universities (No. XDJK2019C026) for kindly support. In addition, the authors also thank China Agriculture Research System (No. CARS-27), National Risk Assessment Program for Agricultural Products Quality and Safety (No. GJFP2019003 and GJFP2019013) for financial support.
Compliance with ethical standards
The author(s) declare that they have no competing interests.
All procedures performed in studies involving animals were in accordance with the ethical standards of Chinese laws and guidelines (GKFCZ2001545).
Copyright information
© Springer-Verlag GmbH Austria, part of Springer Nature 2019