Antimony-doped tin oxide nanoparticles as peroxidase mimics for paper-based colorimetric detection of glucose using smartphone read-out
Abstract
Antimony-doped tin oxide nanoparticles (ATO NPs) were loaded on a filter paper where they act as a peroxidase mimic without electrochemical or photochemical assistance. The peroxidase mimicking activity is distinctly improved compared to most known nanomaterials and to natural horseradish peroxidase. The catalytic properties depend on the amount of antimony doped into the ATO NPs. A glucose assay was worked out that is based on (a) the oxidation of glucose by glucose oxidase under formation of H2O2, (b) the oxidation of 3,3,5,5-tetramethybenzidine (TMB) catalyzed by ATO NPs to form blue-green colored oxidized TMB on the surface of the paper. The coloration was analyzed with a smartphone. The method has a 21 μM limit of detection and a linear range that extends from 0.5 to 80 mM.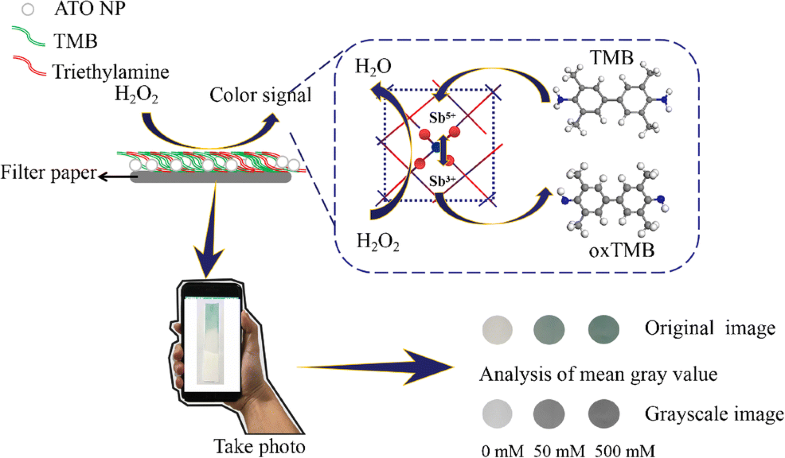 Keywords
Peroxidase-activity 
Paper-based device 
Smartphone colorimetry 
Antimony doping 
Enzyme mimic 
H2O2 
Notes
Acknowledgements
This work was supported by National Natural Science Foundation of China (No. 21705060, 21605105 and 21573103), Natural Science Foundation of Jiangsu Province, China (No. BK20170570), College Natural Science Foundation of Jiangsu Province, China (No. 17KJB150014) and Six Talent Peaks Project in Jiangsu Province, China (No. SWYY-021).
Compliance with ethical standards
The author(s) declare that they have no competing interests.
Copyright information
© Springer-Verlag GmbH Austria, part of Springer Nature 2019