Surface-enhanced Raman spectroscopic single step detection of Vibrio parahaemolyticus using gold coated polydimethylsiloxane as the active substrate and aptamer modified gold nanoparticles
Abstract
A method is described for single-step detection of V. parahaemolyticus in seafood via aptamer-based SERS. A gold-coated polydimethylsiloxane (PDMS) film was used for the enhancement of Raman scattering. The Raman reporter 4-mercaptobenzoic acid was linked to aptamer modified gold nanoparticles (AuNPs) served as a signalling probe. The negatively charged signalling probe was assembled onto the cysteamine-modified Au-PDMS film through electrostatic adsorption. On addition of V. parahaemolyticus, it will be bound by the aptamer as a biorecognition element, and this leads to the dissociation of the signalling probe from the Au-PDMS film. Hence, the Raman signal (at 1592 cm−1) decreases. The assay has a wide linear response that covers the 1.2 × 102 to 1.2 × 106 cfu·mL−1 V. parahaemolyticus concentration range. The detection limit is 12 cfu·mL−1. The method was successfully applied to the determination of V. parahaemolyticus in oyster and salmon samples.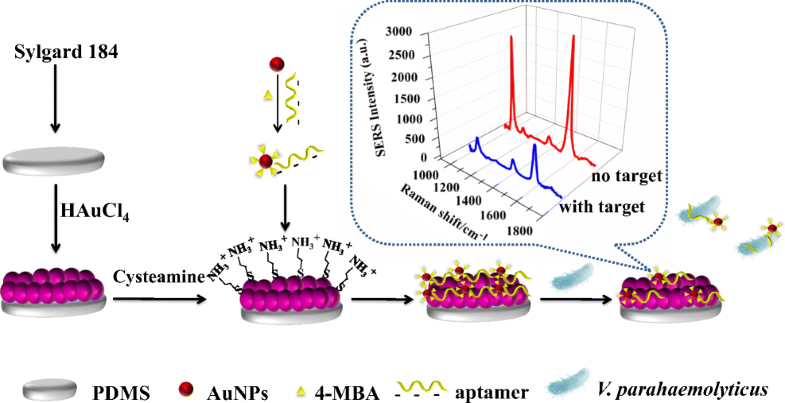 Keywords
Food-borne pathogen 
Spectroscopy 
Biorecognition 
4-Mercaptobenzoic acid 
Oyster 
Salmon 
Food analysis 
Notes
Acknowledgements
This work was partially supported by the Key Research and Development Program of Jiangsu Province BE2016306, National Key Research and Development Program of China (2018YFC1602905), National Natural Science Fund of China (NSFC 31772086, 31871721), Jiangsu Agriculture Science and Technology Innovation Fund (CX(18)2025) and Young Elite Scientists Sponsorship Program by CAST (2017QNRC001).
Compliance with ethical standards
The author(s) declare that they have no competing interests.
Copyright information
© Springer-Verlag GmbH Austria, part of Springer Nature 2019