A glassy carbon electrode modified with a monolayer of zirconium(IV) phosphonate for sensing of methyl-parathion by square wave voltammetry
Abstract
A glassy carbon electrode (GCE) was consecutively modified with amino groups and phosphate groups, and then loaded with Zr(IV) ions. Fourier transform infrared spectrophotometry, field-emission scanning electron microscopy, energy dispersive X-ray spectroscopy and cyclic voltammetry were used to characterize the morphologies and electrochemical properties. The sensor was used to detect p-nitrophenyl-substituted organophosphorus pesticides, with methyl-parathion (MP) as the model analyte. Under optimized conditions, the oxidation current of square wave voltammetry (typically measured at around −0.28 V vs. saturated calomel electrode) increases linearly in the 1.0 to 100 ng mL−1 MP concentration range, and the detection limit is 0.25 ng mL−1 (at a signal to noise ratio of 3). Average recoveries from (spiked) real water samples are 99.9–102.2%, with relative standard deviations of 0.3–2.6% (n = 3) at three levels. The reliability and accuracy of the method was validated by HPLC.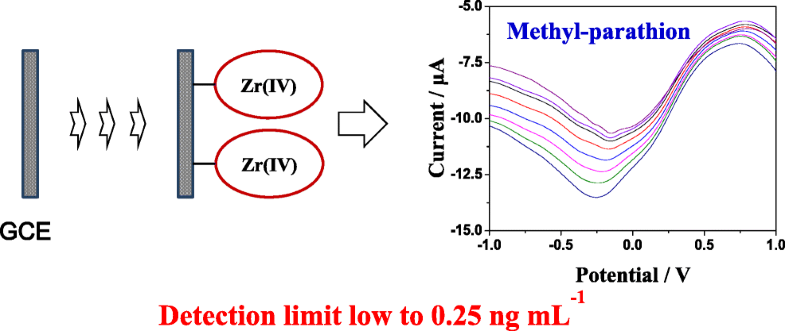 Keywords
Zirconium 
Chemically modified electrode 
p-Nitrophenyl-substituted organophosphorus pesticide 
Residue analysis 
Water samples 
Notes
Acknowledgements
This work was supported by the National Natural Science Foundation of China [NSFC, Grant Nos. 21775126 and 21565023].
Compliance with ethical standards
The author(s) declare that they have no competing interests.
Copyright information
© Springer-Verlag GmbH Austria, part of Springer Nature 2019