Silicon-doped carbon quantum dots with blue and green emission are a viable ratiometric fluorescent probe for hydroquinone
Abstract
Silicon-doped carbon quantum dots (Si-CQDs) were employed to fabricate a ratiometric fluorometric probe that shows high selectivity for hydroquinone (HQ). The Si-CQDs were prepared through hydrothermal treatment of N-[3-(trimethoxysilyl)propyl]-ethylenediamine. If HQ is oxidized in a solution of the Si-CQDs, 1,4-benzoquinone will be formed which quenches the blue fluorescence (with excitation/emission peaks at 360/435 nm) of the Si-CQDs. Simultaneously, intense green fluorescence (with a emission peak at 513 nm) appears, probably due to the formation of n-π clathrates or of a quinone imine between 1,4-benzoquinone and amino groups on the surface of the Si-CQDs. The ratio of the green and blue fluorescence can be applied to the determination of HQ with a 0.077 μM detection limit. The analytical range extends from 1 to 40 μM.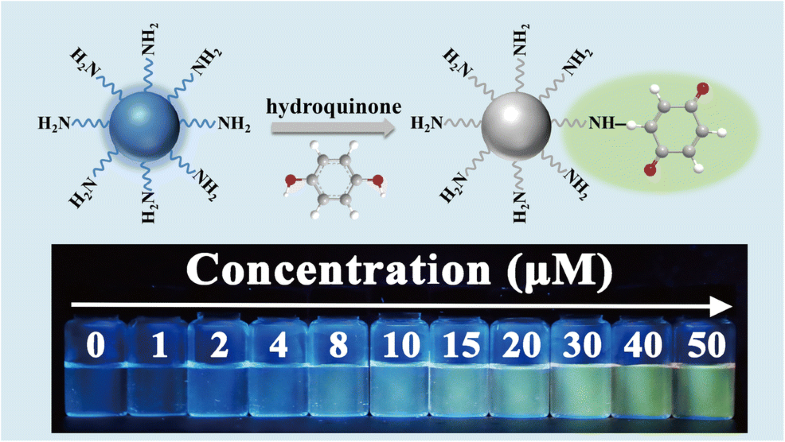 Keywords
Carbon dots 
Visual detection 
N-[3-(Trimethoxysilyl)propyl]-ethylenediamine 
Benzoquinone 
1,4-Dihydroxybenzene 
Water samples 
Cosmetics samples 
Hydrothermal reaction 
Optical probe 
Quantum yield 
Notes
Funding
This work was financially supported by the Fundamental Research Funds for the Northwest A&F University (Nos. Z111021601) and Talented Program (A279021724).
Compliance with ethical standards
The authors declare that they have no conflict of interest.
Copyright information
© Springer-Verlag GmbH Austria, part of Springer Nature 2019