Colorimetric evaluation of the hydroxyl radical scavenging ability of antioxidants using carbon-confined CoOx as a highly active peroxidase mimic
Abstract
The authors present a colorimetric method for the evaluation of the hydroxyl radical scavenging capability of antioxidants by exploiting carbon-confined mixed cobalt oxide nanoparticles (denoted as C-confined CoOx NPs) as a novel peroxidase mimic. The nanozyme can be prepared from the metal-organic framework ZIF-67 by calcination at a moderate temperature. It exhibits peroxidase-mimicking activity and catalyzes the oxidation of colorless 3,3′,5,5′-tetramethylbenzidine (TMB) to form a blue product in the presence of H2O2 via generation of hydroxyl radicals. However, in the presence of an antioxidant, the color reaction is suppressed due to scavenging of hydroxyl radicals by the antioxidant. Based on this principle, the hydroxy radical scavenging ability of glutathione (GSH), cysteine (Cys), tannic acid (TA) and tea polyphenols (TP) was assessed. It was found that these antioxidants can scavenge hydroxyl radicals in the following decreasing order: TA>Cys>GSH>TP. The assay was also used to quantify the antioxidative power of common fruit extracts.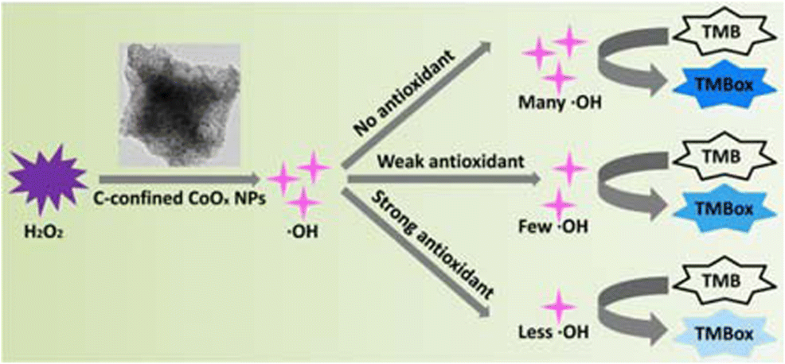 Keywords
Nanozyme 
Co-based materials 
ROS 
Colorimetric detection 
Hydroxyl radicals 
Antioxidant activity 
POx 
Fruit extracts 
Notes
Acknowledgements
The authors appreciated the supports from the National Natural Science Foundation of China (Nos. 21605061 and 31601549), the Natural Science Foundation of Jiangsu Province (No. BK20160489), the Open Fund from the Shanghai Key Laboratory of Functional Materials Chemistry (No. SKLFMC201601), the Open Fund from the State Key Laboratory of Bioreactor University, and the Postgraduate Research & Practice Innovation Program of Jiangsu Province (No. KYCX18_2341).
Compliance with ethical standards
The author(s) declare that they have no competing interests.
Copyright information
© Springer-Verlag GmbH Austria, part of Springer Nature 2019