Fluorometric turn-on detection of ascorbic acid based on controlled release of polyallylamine-capped gold nanoclusters from MnO2 nanosheets
Abstract
A fluorometric turn-on assay is described for ascorbic acid (AA). It is based on the controlled release of polyallylamine-stabilized gold nanoclusters (polyallylamine-AuNCs) from MnO2 nanosheets. In an aqueous solution of near-neutral pH value, the positively charged capped AuNCs are adsorbed on the surface of the negatively charged MnO2 nanosheets. The adsorption leads to the quenching of the fluorescence of the AuNCs. However, in the presence of AA, MnO2 is reduced to Mn2+. This causes the destruction of the MnO2 nanosheets. As a result, the fluorescence of the polyallylamine-AuNCs at 615 nm is recovered. This method for determination of AA is inexpensive, sensitive, and selective. It works in the 0.01 to 200 μM concentration range and has a 3.2 nM detection limit (for S/N = 3).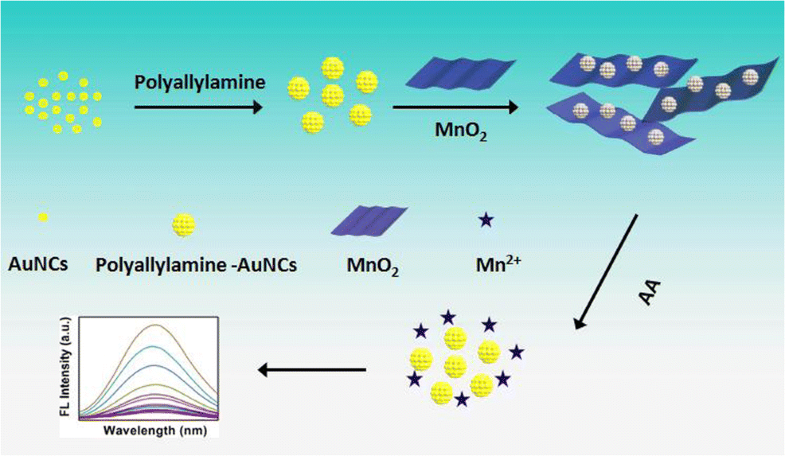 Keywords
MnO2 nanosheets 
Gold nanoclusters 
Polyallylamine 
Ascorbic acid detection 
AIEE 
FRET 
Notes
Acknowledgments
The authors are grateful for the support of the National Natural Science Foundation of China (21775089), Outstanding Youth Foundation of Shandong Province (ZR2017JL010), Key Research and Development Program of Jining City (2018ZDGH032), and Project of Shandong Province Higher Educational Science and Technology Program (J18KA101).
Compliance with ethical standards
The author(s) declare that they have no competing interests.
Copyright information
© Springer-Verlag GmbH Austria, part of Springer Nature 2019