Ratiometric determination of hydrogen peroxide based on the size-dependent green and red fluorescence of CdTe quantum dots capped with 3-mercaptopropionic acid
Abstract
A ratiometric fluorescent nanoprobe is described for the detection of H2O2. It is based on the use of a mixture of green-emitting CdTe quantum dots (GQDs) and red-emitting CdTe QDs (RQDs). The two kinds of QDs have different size and different fluorescence response towards H2O2. The ratio of the emission intensities at 606 and 510 nm (under 365 nm photoexcitation) can be used as the analytical information. Even without any chemical modification of the surface of the QDs, the probe display high sensitivity and selectivity for H2O2. The fluorescence of small QDs is more effectively quenched by H2O2. Stern-Volmer analysis showed both static and dynamic quenching to occur. The probe works well in the 10~125 μM H2O2 concentration range and has a 0.3 μM detection limit (3σ/slope).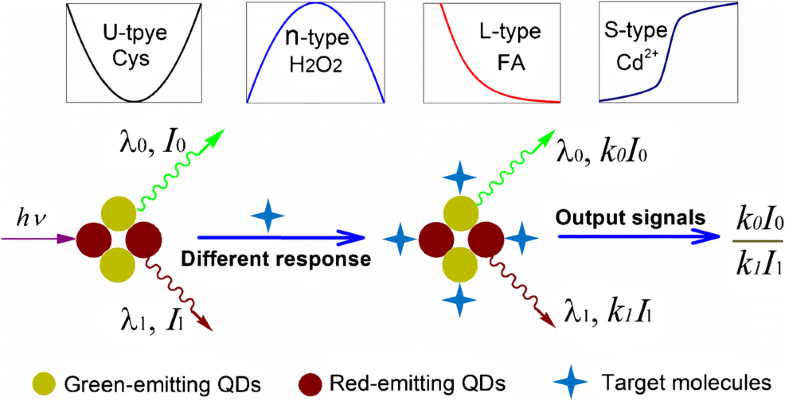 Keywords
Ratiometric fluorescent nanoprobe 
Binary QD systems 
Fluorescent detection 
Fluorescence intensity ratios 
Quenching efficiency 
Stern-Volmer plot 
Biomarkers 
Real samples 
Quenching mechanism 
Notes
Acknowledgments
This work was supported by the National Natural Science Foundation of China (Grant No. 21476183).
Compliance with ethical standards
The author(s) declare that they have no competing interests.
Copyright information
© Springer-Verlag GmbH Austria, part of Springer Nature 2019