Voltammetric determination of hydroquinone, catechol, and resorcinol by using a glassy carbon electrode modified with electrochemically reduced graphene oxide-poly(Eriochrome black T) and gold nanoparticles
Abstract
A nanocomposite consisting of electrochemically reduced graphene oxide, poly(Eriochrome black T) and gold nanoparticles (ERGO-pEBT/AuNPs) was prepared for the simultaneous detection of resorcinol (RC), catechol (CC), and hydroquinone (HQ). The electrochemical oxidation of HQ, CC, and RC was analysed by using cyclic voltammetry and differential pulse voltammetry. Three well-separated potentials were found at 166, 277, and 660 mV (vs. Ag/AgCl) for HQ, CC, and RC, respectively The linear ranges were 0.52–31.4, 1.44–31.2, and 3.8–72.2 μM for HQ, CC, and RC, respectively. The limits of detections (LODs) for both individual and simultaneous detections are negligibly different are (15, 8, and 39 nM, respectively).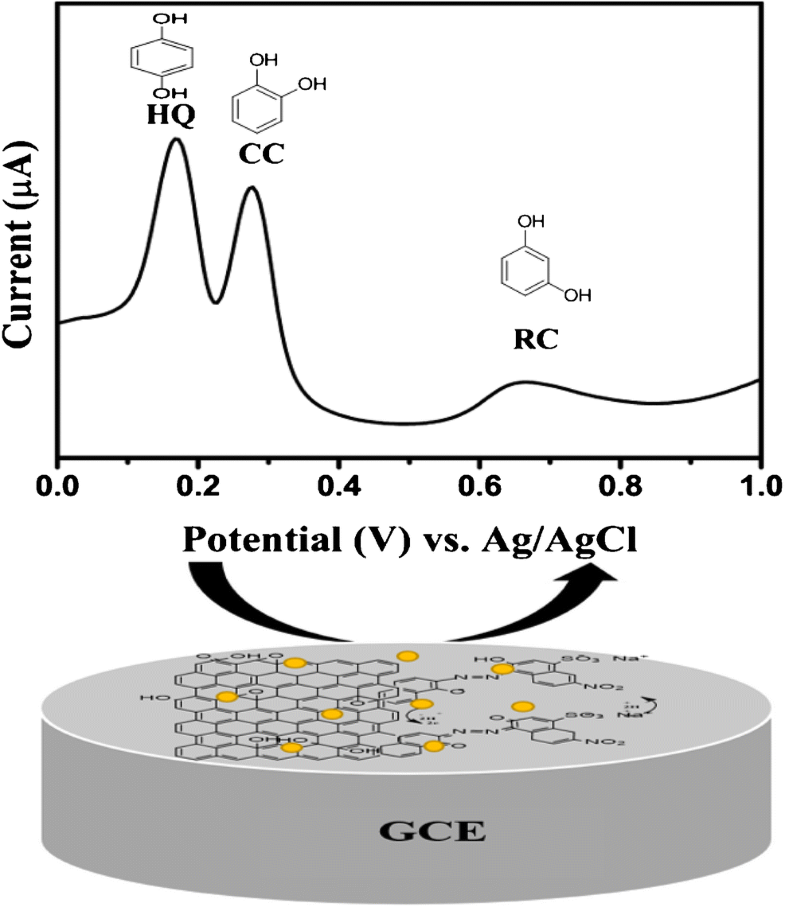 Keywords
Simultaneous determination 
Electroanalysis 
Electropolymerization 
Differential pulse voltammetry 
Notes
Acknowledgements
This research has been funded by Universiti Putra Malaysia Research Grant (GP IPS/2016/9512900). Thanks also to the Organization for Women in Science for the Developing World (OWSD) and Sida (Swedish International Development Cooperation Agency) for the scholarship to Nusiba Mohammed Modawe Alshik.
Compliance with ethical standards
The author(s) declare that they have no competing interests.
Copyright information
© Springer-Verlag GmbH Austria, part of Springer Nature 2019