Ratiometric fluorescent immunoassay for the cardiac troponin-I using carbon dots and palladium-iridium nanocubes with peroxidase-mimicking activity
Abstract
A nanozyme-linked immunosorbent assay is described for cardiac troponin I which is a biomarker for myocardial infarction. The method is based on the use of Pd-Ir nanocubes with excellent peroxidase-like activity. The nanocubes catalyze the oxidization of nonfluorescent o-phenylenediamine (OPD) by H2O2 to form a yellow fluorescent product (oxOPD) with excitation/emission maxima at 400/570 nm. Carbon dots are added as a reference fluorophore. Under the same excitation wavelength, they display blue fluorescence (450 nm). The ELISA uses the Pd-Ir nanocubes as a label for the secondary antibody and OPD as substrate. The ratio of fluorescence intensities at 570 and 450 nm increases in the 1 pg·mL−1 to 1 ng·mL−1 cardiac troponin I concentration range, and the detection limit is 0.31 pg·mL−1. The method was applied to analyze spiked serum samples, and the results compared well with those obtained by a commercial chemiluminescence assay.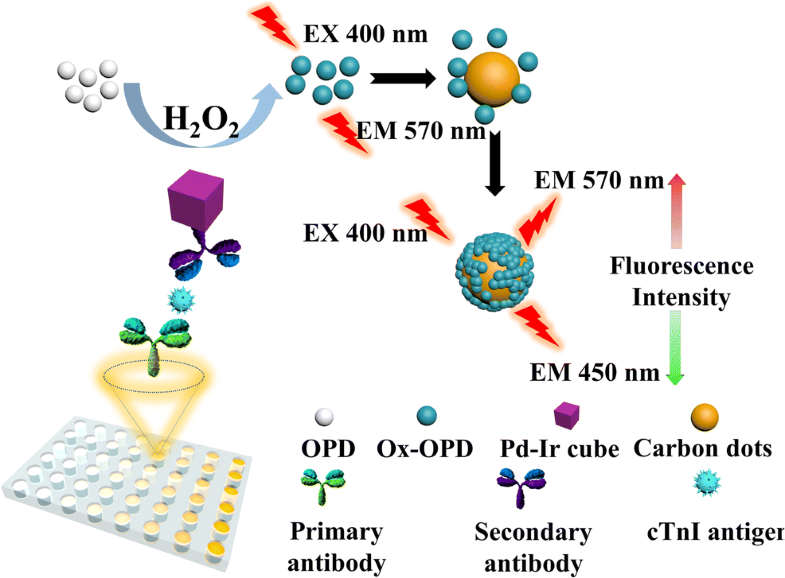 Keywords
Heart attack biomarker 
Sandwich immunoassay 
Ratiometric method 
Improved ELISA 
Core-shell structure 
Ultrasensitive detection 
Nanozymes 
Clinical diagnosis 
Metal alloys 
O-phenylenediamine 
Notes
Acknowledgments
This study was supported by the Natural Science Foundation of Shandong Province, China (No. ZR2017MB017) and the Natural Science Foundation of China (No. 21245007 and 81000976).
Compliance with ethical standards
The author(s) declare that they have no competing interests.
Copyright information
© Springer-Verlag GmbH Austria, part of Springer Nature 2019