A fluorometric displacement assay for adenosine triphosphate using layered cobalt(II) double hydroxide nanosheets
Abstract
A turn-on fluorometric method is described for the determination of adenosine-5′-triphosphate (ATP). It is based on the displacement of a dye-labeled oligonucleotide from a cobalt(II) based layered double hydroxide (LDH). Due to the electrostatic and ligand exchange interaction, the FAM-labeled DNA is readily adsorbed on the LDH. This leads to complete and fast quenching of the green fluorescence of the label. However, on addition of ATP, the DNA is detached from the LDH because of the stronger affinity of ATP for LDH. This results in the restoration of the green fluorescence. The effect was used to design a sensitive assay that has a linear response in the 0.5–100 μM ATP concentration range and a 0.23 μM lower detection limit. It was applied to the determination of ATP in spiked serum samples.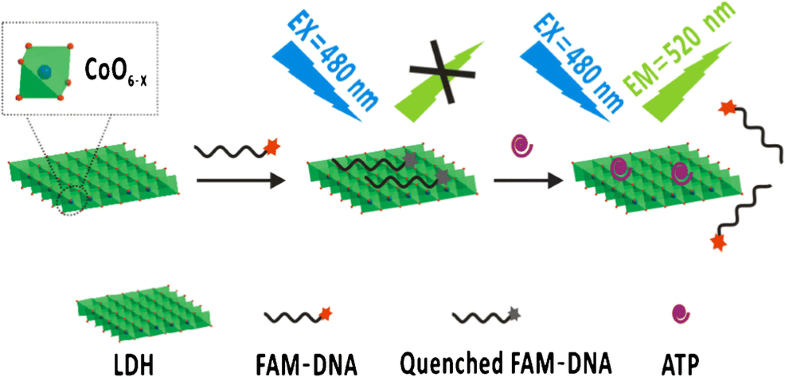 Keywords
Dye-labeled DNA 
Phosphate-containing metabolites 
Two-dimensional layered materials 
Quenching mechanism 
Serum analysis 
Notes
Acknowledgements
The authors gratefully acknowledge the financial from the National Natural Science Foundation of China (21705150, 21473204), the Natural Science Foundation of Fujian Province (2015 J01070), and the Science and Technology Planning Project of Fujian Province (2014H2008).
Compliance with ethical standards
The author(s) declare that they have no competing interests.
Copyright information
© Springer-Verlag GmbH Austria, part of Springer Nature 2019