A nanocomposite prepared from magnetite nanoparticles, polyaniline and carboxy-modified graphene oxide for non-enzymatic sensing of glucose
Abstract
The authors report on the synthesis of carboxy functionalized graphene oxide (fGO) decorated with magnetite (Fe3O4) nanoparticles. The resulting nanomaterial was used to prepare a composite with polyaniline (PANI) which was characterized by UV-vis, Fourier transform-infrared and Raman spectroscopies. Its surface morphologies were characterized by atomic force and scanning electron microscopies. A screen-printed carbon electrode was then modified with the nanocomposite to obtain an enzyme-free glucose sensor. The large surface of fGO and Fe3O4 along with the enhanced charge transfer capability of PANI warrant a pronounced electrochemical response (typically measured at 0.18 V versus Ag/AgCl) which is suppressed in the presence of glucose. This reduction of current by glucose was used to design a sensitive method for quantification of glucose. The response of the modified SPCE is linear in the 0.05 μM – 5 mM glucose concentration range, and the lower detection limit is 0.01 μM.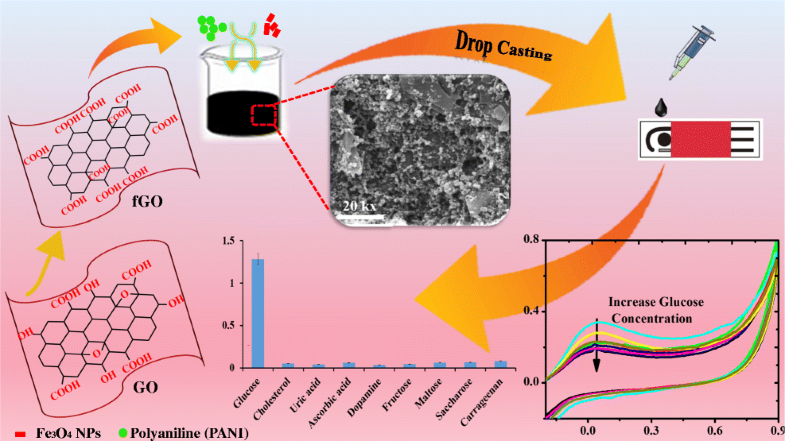 Keywords
Screen printed carbon electrode 
Functionalized graphene oxide 
Iron oxide 
Polyaniline 
Electrochemical sensor 
Glucose detection 
Serum sample 
Enzyme free glucose sensor 
Metal oxide decorated graphene 
Notes
Acknowledgments
M. H. N thanks the Higher Education Commission of Pakistan for financial assistance under start-up research grant and national research program for universities (21-329/SRGP/R&D/HEC/2014 and 20-4993/R&D/HEC/14/614). R. B acknowledges the HEC supported studentship under NRPU.
Compliance with ethical standards
The author(s) declare that they have no competing interests.
Copyright information
© Springer-Verlag GmbH Austria, part of Springer Nature 2019