A copper(II)/cobalt(II) organic gel with enhanced peroxidase-like activity for fluorometric determination of hydrogen peroxide and glucose
Abstract
A bimetallic organic gel was prepared by mixing the bridging ligand 2,4,6-tri(4-carboxyphenyl)-1,3,5-triazine with Cu(II) and Co(II) ions at room temperature. The resulting metal-organic gel (MOG) shows enhanced peroxidase-like activity, most likely due to the synergetic redox cycling between Co(III)/Co(II) and Cu(II)/Cu(I) pairs. These accelerate interfacial electron transfer and generation of hydroxy radicals. The MOG can catalyze the reaction of H2O2 with terephthalic acid (TPA), producing a blue fluorescence product with the maximum excitation/emission at 315/446 nm. The enzyme mimic was used to design a fluorometric method for H2O2 that has a 81 nM detection limit. H2O2 is also formed by glucose oxidase-assisted oxidation of glucose by oxygen, and an assay for glucose was worked out based on the above method. It has a 0.33 μM detection limit. This study may open up a new avenue to design and synthesize nanomaterial-based biomimetic catalysts with multiple metal synergistically enhanced catalytic activity for potential applications in biocatalysis, bioassays and nano-biomedicine.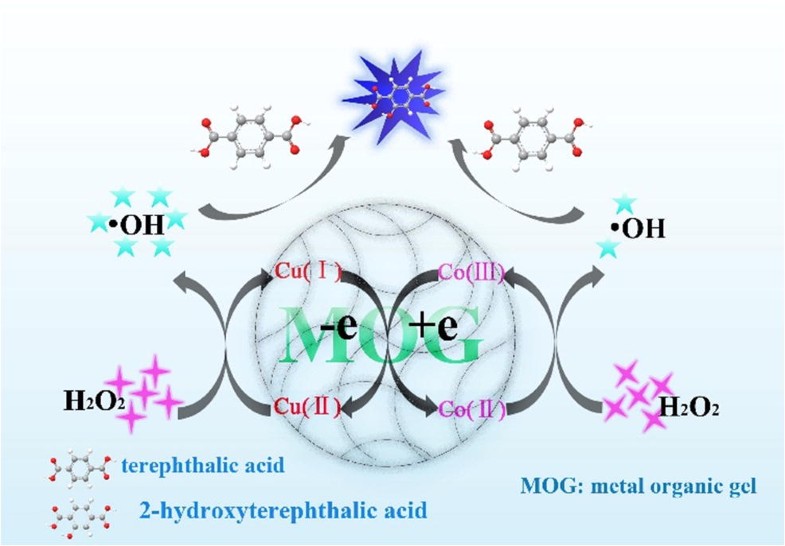 Keywords
Peroxidase mimetic 
Redox cycle 
Synergistic effect 
Metal-organic gel 
Enzyme mimic 
Terephthalic acid 
2-hydroxyterephthalic acid 
Fluorescence 
Catalysis 
Hydroxy radicals 
Notes
Acknowledgements
The authors are grateful to the National Natural Science Foundation of China (NSFC, No. 21575117).
Compliance with ethical standards
The author(s) declare that they have no competing interests.
Copyright information
© Springer-Verlag GmbH Austria, part of Springer Nature 2019