Yellow-emissive carbon dots as a fluorescent probe for chromium(VI)
Abstract
The authors describe a one-step method for the preparation of yellow fluorescent carbon dots (CDs) starting from 4-aminoacetanilide hydrochloride and 4-acetamidobenzaldehyde. The CDs have excitation/emission peaks at 470/550 nm, good water solubility, salt-tolerance and photostability. Their fluorescence is quenched by hexavalent chromium [Cr(VI)] via static quenching. Fluorescence intensity drops linearly in the 1 to 400 μM Cr(VI) concentration range, and the limit of detection is 0.13 μM. This method is selective for Cr(VI) over potential metal ion interferences and was successfully applied to the detection of Cr(VI) in spiked water and biological tissue samples. Recoveries from spiked samples ranged from 97.7% to 103.8%.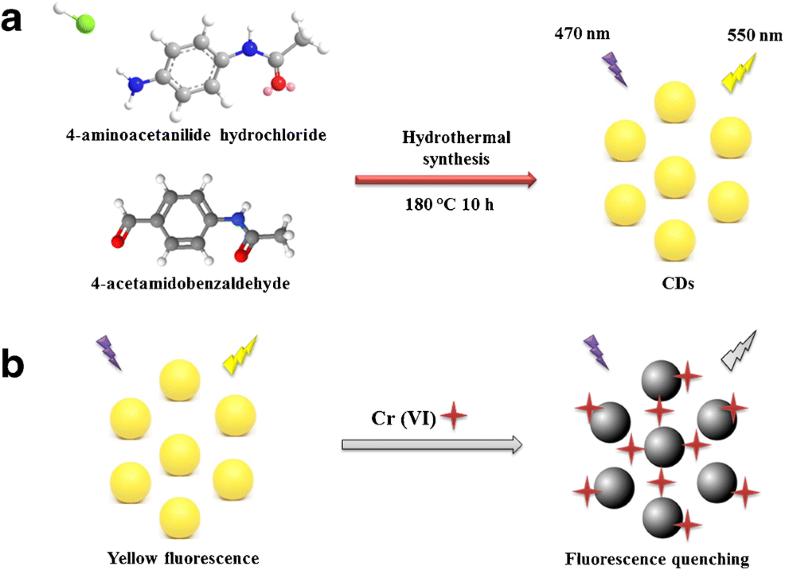 Keywords
Yellow fluorescence 
Nanoparticles 
Fluorometry 
Chromate 
Static quenching 
Stern-Volmer plot 
Water samples 
Fish tissues 
Biological tissues 
Notes
Acknowledgements
The authors are grateful for financial support from the National Natural Science Foundation of China (No. 21675068).
Compliance with ethical standards
The author(s) declare that they have no competing interests.
Copyright information
© Springer-Verlag GmbH Austria, part of Springer Nature 2019