Magnetite nanoparticles coated with mercaptosuccinic acid-modified mesoporous titania as a hydrophilic sorbent for glycopeptides and phosphopeptides prior to their quantitation by LC-MS/MS
Abstract
A hydrophilic material consisting of a magnetite core coated with mercaptosuccinic acid modified mesoporous titania (denoted as Fe3O4@mTiO2-MSA) has been fabricated. It is shown to be a viable sorbent for capturing glycopeptides and phosphopeptides. The sorbent combines the features of metal oxide-based affinity chromatography and of hydrophilic interaction liquid chromatography (HILIC) with the advantages of using mesoporous titania. The use of magnetic microspheres provides magnetic response and simplifies separation. Following elution with 10% ammonia, the peptides were submitted to LC-MS/MS analysis. The method enabled 327 phosphopeptides and 65 glycopeptides to be identified in three isolated replicates of merely 5 μL samples of human saliva. Among them, the phosphorylation sites and glycosylation sites were detected in 20 peptide segments.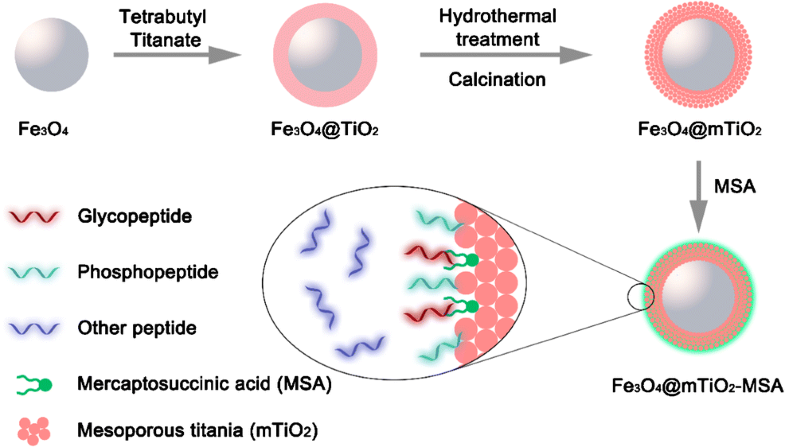 Keywords
Metal oxide affinity chromatography 
Hydrophilic interaction liquid chromatography 
Proteomics 
Functionalized nanomaterials 
Simultaneous enrichment 
Human saliva 
Mass spectrometry 
Phosphorylation 
Glycosylation 
Post-translational modification 
Notes
Acknowledgements
This work was financially supported by National Key R&D Program of China (2018YFA0507501) and the National Natural Science Foundation of China (21425518).
Compliance with ethical standards
The author(s) declare that they have no competing interests.
Copyright information
© Springer-Verlag GmbH Austria, part of Springer Nature 2019