Multicolor emitting N/S-doped carbon dots as a fluorescent probe for imaging pathogenic bacteria and human buccal epithelial cells
Abstract
Carbon dots co-doped with nitrogen and sulfur (NSCDs) were obtained from thiourea and TAE (Tris-acetate-ethylenediamine) buffer using microwave assisted hydrothermal synthesis. The synergistic presence of nitrogen and sulfur as a dopant results in teasing fluorescence properties and a fluorescence quantum yield of 57%. An HR-TEM study showed the NSCDs to be mono-dispersed and seemingly spherical with an average hydrodynamic diameter of 3.6 ± 0.88 nm. The NSCDs are nontoxic as proven by an MTT assay for cytotoxicity. The optical characterization was done by using UV-Vis absorption and fluorescence spectroscopy which revealed excitation wavelength-dependent multicolor emissions. The characterization of surface topology was done by using X-ray diffraction, FTIR, and X-ray photoelectron spectroscopy. The NSCDs were used to image various pathogenic bacteria (E. coli, Klebsiella, Pseudomonas & Staphylococcus) and human buccal epithelial cells by applying multicolor fluorometry.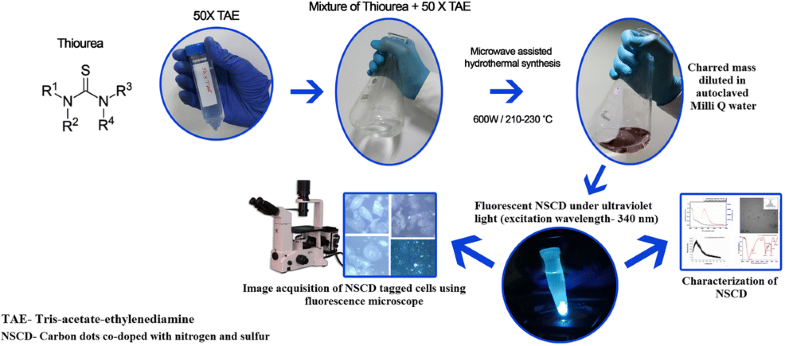 Keywords
Thiourea 
TAE buffer 
Doping 
Microwave-assisted hydrothermal synthesis 
Tagging 
Fluorescence microscopy 
Fluorescence quantum yield 
Multicolor fluorometry 
Notes
Acknowledgements
The authors gratefully acknowledge the Department of Biotechnology (DBT), Govt. of India for the financial support through the project no. 102SAN/2237/2016-2017 and project no. 102/IFD/SAN/1409/2018-2019. The authors would like to thank Sophisticated Analytical Instruments Facility (SAIF), Cochin University of Science and Technology (CUSAT) for their unsparing support in HR-TEM image acquisition. The authors would also like to thank Mr. Jayesh Vasudeva Adhikari (University of Southern California), Mr. Prateek Katare (Indian Institute of Science, Bangalore) and Ms. Divya Nair (Amrita School of Biotechnology, Kollam) for their generous help in providing the presentable schematics, MATLAB codes for particle size estimation and several other characterization techniques.
Compliance with ethical standards
The author(s) declare that they have no competing interests.
Copyright information
© Springer-Verlag GmbH Austria, part of Springer Nature 2019