Raman spectroscopic imaging of pH values in cancerous tissue by using polyaniline@gold nanoparticles
Abstract
A core-shell nanocomposite consisting of polyaniline and gold nanoparticles (PANI@AuNPs) is shown to enable intracellular monitoring of pH values by surface-enhanced Raman scattering (SERS) spectroscopy. The method exploits the pH-responsive property of PANI and the SERS-enhancing effect of AuNPs. The intensity of the PANI Raman peak at 1164 cm−1 decreases on increasing the pH value from 4.6 to 7.4. This is the pH range encountered in normal cells and in cancer cells. The PANI@AuNPs were incorporated into HeLa cancer cells and 5 other kinds of cells for Raman based imaging of pH values. The results show that this pH nanoprobe can be applied for imaging of both normal cells and cancer cells. The core-shell composite was also applied to tissue imaging. In our perception, this core-shell nanoprobe is a valuable tool for imaging pH values of cancerous tissue.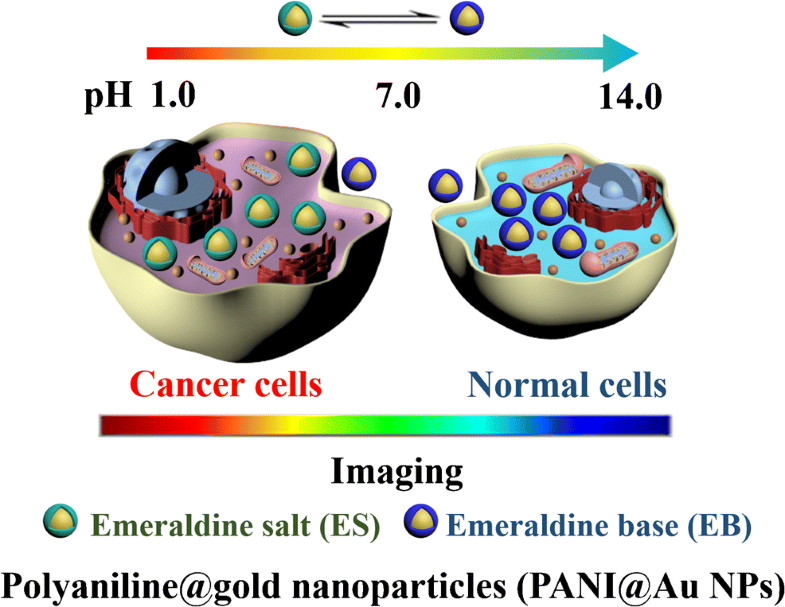 Keywords
Stimuli-responsive polymer 
Intracellular sensing 
Surface-enhanced Raman scattering 
pH-pribe 
Cell imaging 
Tissue imaging 
Notes
Acknowledgments
The work was supported by the National Natural Science Foundation of China (Nos.21675178, 21575168 and 21575167), the Guangdong Provincial Natural Science Foundation of China (No. 2017A030313070), and the Special Funds for Public Welfare Research and Capacity Building in Guangdong Province of China (No. 2015A030401036), the National Key Research and Development Program of China (Nos. 2018YFC1603201), and the Guangzhou Science and Technology Program of China (Nos. 201604020165 and 201704020040), respectively.
Compliance with ethical standards
The author(s) declare that they have no competing interests.
Copyright information
© Springer-Verlag GmbH Austria, part of Springer Nature 2019