Highly fluorescent organic polymers for quenchometric determination of hydrogen peroxide and enzymatic determination of glucose
Abstract
Strongly fluorescent polymers (FPs) were prepared from citric acid and ethylenediamine via a hydrothermal approach. The FPs display low toxicity, water solubility, a quantum yield of 91%, good photostability and stability in the physiological pH range. Ferric ions are found to quench the fluorescence which is best measured at excitation/emission wavelengths of 350/440 nm. Because ferric ions (Fe3+) can quench the fluorescence of FPs, a fluorometric method was developed for fast detection of Fe3+ and within 1 min. FPs can also be used indirectly for the detection of hydrogen peroxide because of its fast Fenton reaction with Fe2+ to generate of Fe3+. The detection limits are 8 μM for Fe(III) and 0.6 μM for H2O2. On the basis of the glucose oxidase catalyzed of glucose and the Fenton reaction, the FPs can also be used to quantify glucose with a linear response in the 0.5–10 μM concentration range.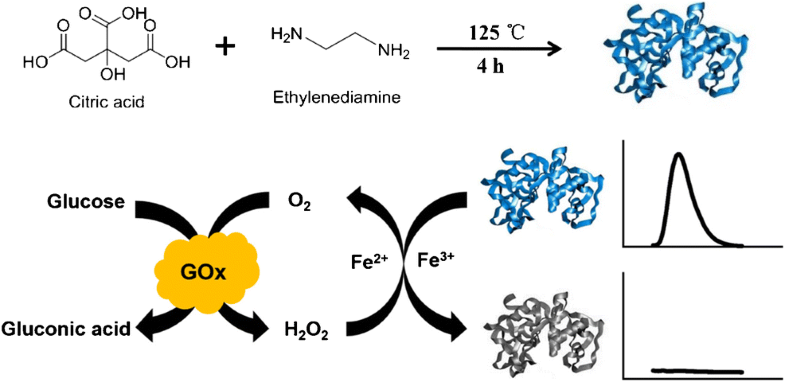 Keywords
Fluorescent polymers 
Fluorometry 
Serum analysis 
Diabetes, Fenton reaction 
Notes
Acknowledgements
This work was supported in part by the National Natural Science Foundation of China (21205108), the Foundation for University Key Teacher by Henan Province (2017GGJS007), and the Fundamental Research Funds for the Central Universities from Hunan University.
Compliance with ethical standards
The authors declare that they have no competing interests.
Copyright information
© Springer-Verlag GmbH Austria, part of Springer Nature 2019