Nitrogen doped carbon nanofibers loaded with hierarchical vanadium tetrasulfide for the voltammetric detection of the non-steroidal anti-prostate cancer drug nilutamide
Abstract
An electrochemical sensor is described for the determination of nilutamide (NLM) in biological fluids. A flexible mat of nitrogen-doped carbon nanofibers (NCNFs) was prepared by electrospinning. This was followed by carbonization and the growth of one-dimensional vanadium tetrasulfide (VS4) nanorods in the circumference of the NCNFs by a solvothermal route. The material was used to modify a glassy carbon electrode (GCE). Cyclic voltammetry and amperometry revealed an excellent electrocatalytic activity of the VS4/NCNF mat towards NLM at a working potential of – 0.57 V (vs Ag/AgCl). The modified GCE has a wide linear range (0.001–760 μM), a low limit of detection (90 pM), good stability, and fast response. It was used to detect NLM in spiked serum and urine samples.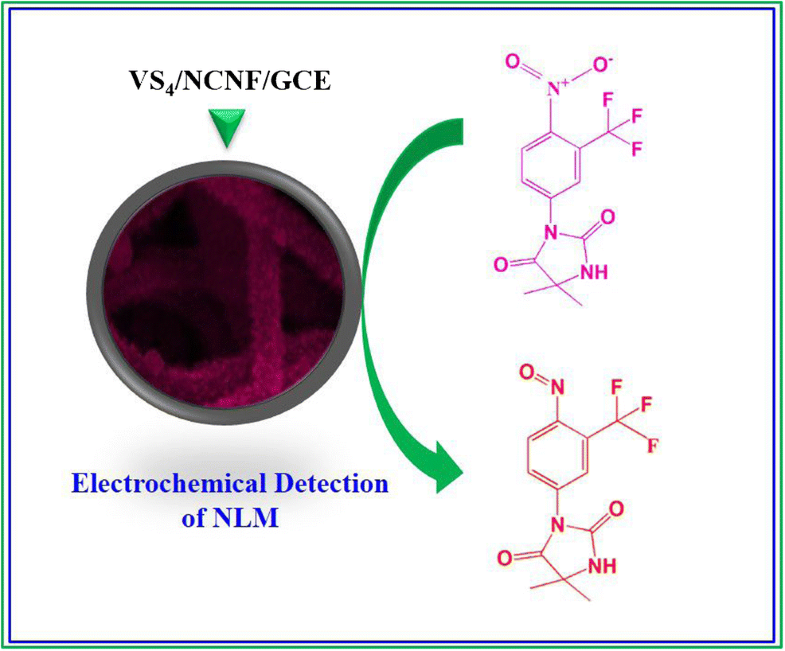 Keywords
Patronite - VS4 
VS4/NCNF electrode 
Electrochemical sensor 
Amperometyr 
Real sample analysis 
Notes
Acknowledgements
This work was supported by Science and Engineering Research Board, India, (SERB/F/4176/2015-16) and National Science Council. This project was supported by the Ministry of Science and Technology (MOST 106-2113-M-027-003 and MOST 106-2811- M-027-004), Taiwan, ROC. Authors are grateful to Chemistry Department, St. Joseph College, Bangalore, India, for ATR analysis, PSG Institute of Advanced Studies (IAS), Coimbatore, India for HRTEM analysis and Sophisticated Analytical Instruments Facility (SAIF), School of Environmental Sciences, M G University, Kottayam, India for Raman Analysis. Also authors sincerely thank Dr. K. Kadirvelu (Joint Director, DRDO-BU-CLS) and Dr. Dhanapal Naidu for their support.
Compliance with ethical standards
The author(s) declare that they have no competing interests.
Copyright information
© Springer-Verlag GmbH Austria, part of Springer Nature 2019