A carbon dot and molecular beacon based fluorometric sensor for the cancer marker microRNA-21
Abstract
A carbon quantum dot (CQD) labeled molecular beacon was synthesized and applied to the detection of microRNA-21. The CQDs possess low cytotoxicity, excellent water solubility, and photostability. The CQDs were characterized by transmission electron microscopy, dynamic light scattering, Fourier-transform infrared spectroscopy, and fluorescence spectroscopy. The molecular beacon (MB) was labeled with the CQDs at the 5′ end, and with Black Hole Quencher 1 (BHQ1) at the 3′ end. The two labels act as the donor and acceptor parts of a FRET system, respectively. Only weak fluorescence is observed in the absence of microRNA-21, and in the presence of scrambled or mismatched sequences. However, in the presence of microRNA-21, fluorescence intensity of the CQDs at 460 nm (excitation at 360 nm) recovers. The hybridization of the hairpin structure of the MB with microRNA-21 opens the loop of MB. Consequently, the distance between the BHQ1 quencher and the CQDs is increased and fluorescence changes. The probe has high sensitivity (with a 0.3 nM limit of detection) and specificity. It can distinguish between microRNA-21 and its single mismatch mutant and hence represents a valuable tool for the early cancer diagnosis.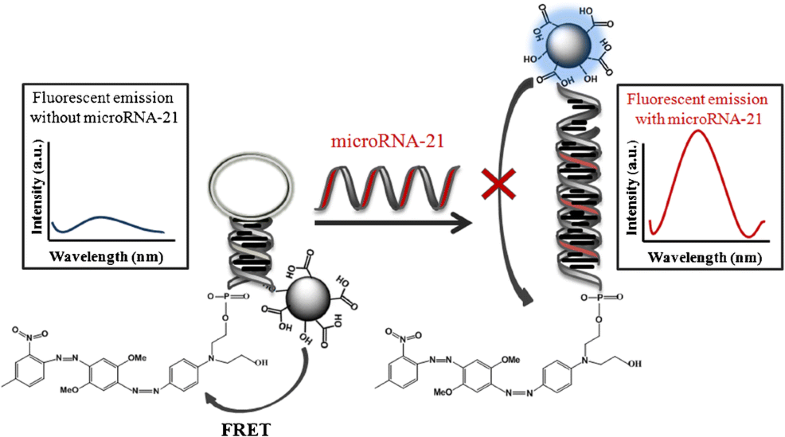 Keywords
Carbon quantum dots 
Cancer detection 
FRET 
Fluorescence biosensor 
BHQ1 quencher 
Hairpin 
Thermodynamic analysis 
Notes
Compliance with ethical standards
The author(s) declare that they have no competing interests.
Copyright information
© Springer-Verlag GmbH Austria, part of Springer Nature 2019