Paper-based fluorometric immunodevice with quantum-dot labeled antibodies for simultaneous detection of carcinoembryonic antigen and prostate specific antigen
Abstract
A method is described for simultaneous fluorometric determination of the biomarkers carcinoembryonic antigen (CEA) and prostate specific antigen (PSA) on the same zone of a paper-based immunodevice. Two kinds of CdTe quantum dots, with respective emission peaks at 525 nm and 605 nm under a single excitation wavelength of 272 nm, were used to label the antibodies against CEA and PSA. Then the capture antibodies of CEA and PSA were immobilized on the same zone of the paper-based device. With the difference of the colors of the quantum dot fluorescence (green and orange), CEA and PSA can be detected on the same zone of the paper-based device. By using of sandwich immunoassay format, CEA and PSA can be simultaneously detected in human serum samples with a linear response in the 1.0–40 ng·mL−1 concentration range for both. The recovery rates of the serum sample were in the range of 95–105%. The method has the potential of being applied to the simultaneous determination of various other kinds of substances on a single multichannel paper-based chip.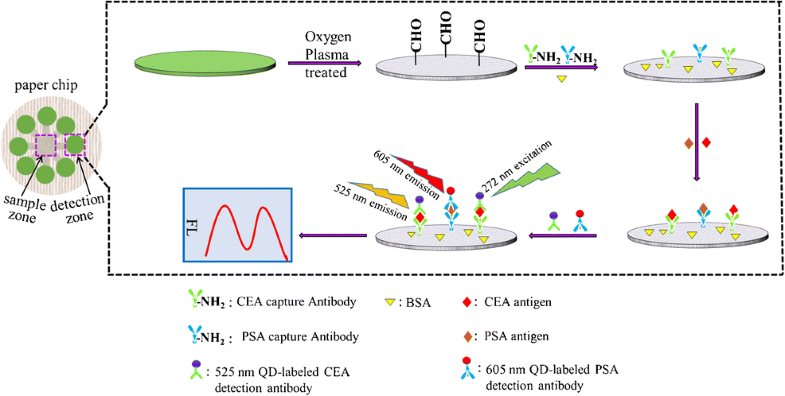 Keywords
Microfluidic system 
Same detection zone 
Fluorescence 
Sandwich immunoassay 
Biomarkers 
Notes
Acknowledgements
We are grateful to Shaanxi Province Science Foundation (No. 2018JM2002) for funding this work. The authors also thank the Fundamental Research Funds for the Central Universities (No.GK201603049, No.GK201701002) and Program for Innovative Research Team in Shaanxi Province (No. 2014KCT-28) for supporting this work.
Compliance with ethical standards
The author(s) declare that they have no competing interests.
Copyright information
© Springer-Verlag GmbH Austria, part of Springer Nature 2019